Salsa Warbird Review - 2016 Model
See Part I of the Salsa Warbird Review Here.
2016 Salsa Warbird Review Part II
The 2016 Salsa Warbird is categorized on the Salsa website as a: GRAVEL RACING / FIREROAD RIDING / ROAD RIDING bicycle. Link to Manufacturer's Website
The bike comes in three distinct flavors: a Carbon framed Warbird with SRAM Rival, an aluminum frame/carbon fork Warbird with Shimano 105, and a Tiagra version with the same frame/fork as the 105.
The Warbird on review here is the Tiagra version. Each of the three models of Warbird feature Salsa's proprietary ride-comfort system, a system they refer to as their Class 5 VRS™ (VRS - Vibration Reduction System).
This is what Salsa say about their VRS - "Specially shaped seatstays with a tall, thin, vertically oriented profile promote vertical compliance by allowing them to "flex" outwards on impacts. The horizontally oriented chainstays work to resist torque and maintain a laterally stiff rear end. A lack of bridges on the seatstays and chainstays allows the full length of the stays to contribute to flexibility, and a rear thru-axle delivers precise tracking while allowing the seatstays to provide that incredible compliance".
Lets start with taking a look at the raison d'être for this bike. What is it and what is it supposed to do well?
Salsa Cycles, in their marketing blurb, make reference to an active community of gravel racers who are less than satisfied with the performance of their bikes on gravel. Thus, according to the manufacturer, there's a need for a more specialized machine, something which can deal specifically with the unique characteristics of a gravel surface. The main area of focus taken by the designers in their approach to the Warbird would seem to be that of striking a balance between speed and rider comfort, thus providing the ability to travel longer distances in a race environment with gravel as the surface medium.
The first questions which sprang to mind when I began to research the Warbird included: 'just how popular is gravel racing, and does it warrant its own equipment niche?'. In other words, isn't their already a gravel bike under a different name - Cyclocross?
Turning to Google, there isn't a whole lot of information available specifically on gravel racing, or 'gravel grinding' as it tends to be known. In fact, at the time of writing I couldn't even find a WIKI entry specific to gravel racing bikes. Now less than a decade or so ago I would've had the same issue searching for 'fat bikes', and perhaps even for 'cyclocross bikes'. So perhaps Salsa are visionary and are getting in at the start of a new cycling genre. Or perhaps it's something else that I'm missing altogether.
Salsa also make reference to the Warbird being suited to 'Fireroad Riding' and of course 'Road Riding', but there's no hiding from the prominent claim made at the start of their website introduction on the Warbird series - "The Warbird is our gravel race bike".
Personally I find it to be a rather gutsy marketing proposition to pigeon-hole a bike to this extent. Gravel racing is, after all, a fairly narrow and specific niche and the chosen nomenclature would seem to run the risk of limiting the true scope of appeal of this rather special machine.
So I prefer to think of the Warbird as a Cyclocross bike with added resistance to high frequency, low intensity vibrations, and when people ask me what type of bike I have I invariably refer to it as a 'Cross bike with a new-fangled suspension system.
Which brings me neatly to the most important feature of the 2016 Warbird, its Class 5 Vibration Reduction System.
Class 5 VRS™
Standing in front of a Warbird, it takes five seconds at most to realize how the VRS is achieved, at least at a rudimentary level. Of course there's the carbon fork, standard on each of the three Warbird models. But then there are those weird looking seatstays, and the welded chainstays, what's that all about?
The seatstays are flared outwards to provide some flex and shock absorption, and the amount of outward flare is very noticeable. They really do look like a tightly drawn archer's bow. Here's a look from a couple of different angles: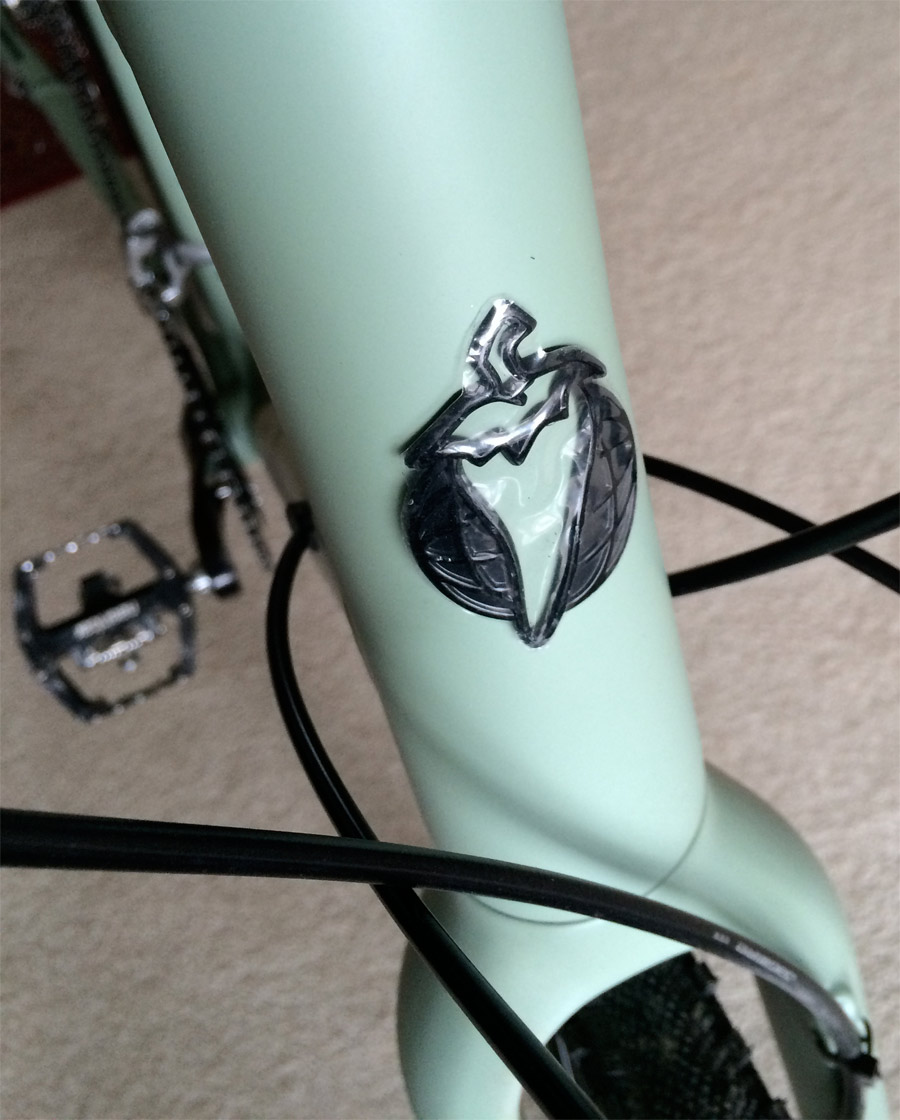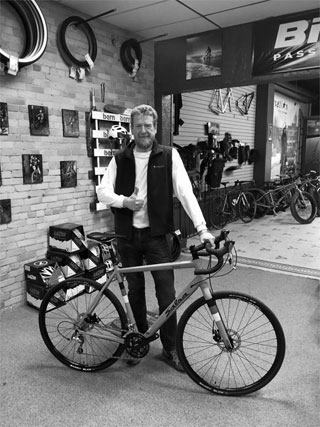 ---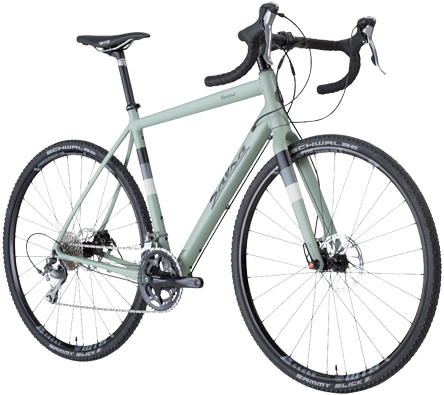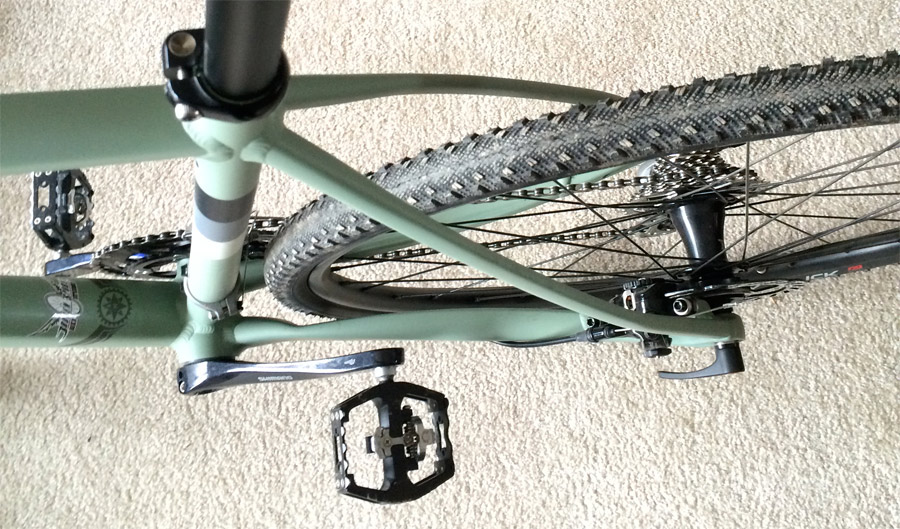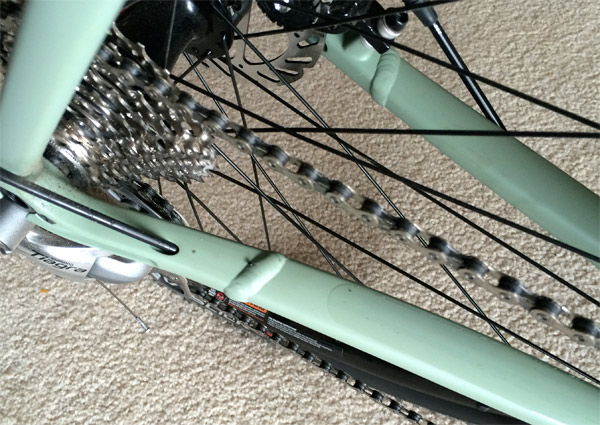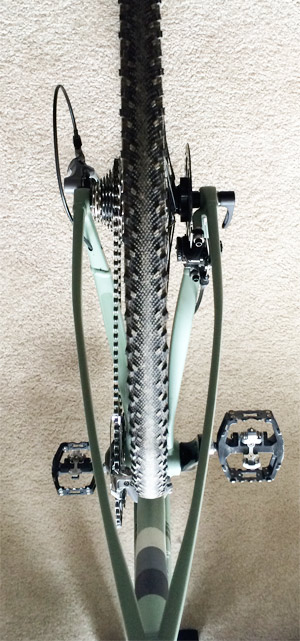 They really do flare outwards, don't they!?
Now I have a small problem with this concept and it's pretty obvious when you think about it. The logic and mechanics behind the bowed seatstay idea is quite obvious, Salsa are creating flex and compliance in a part of the frame where ordinarily there wouldn't be any. But since we're talking about a static suspension system, how does it deal with pre-loading?
Any active system will have adjustment to compensate for the variables, the variables being rider weight and the desired degree of travel. One could assume that the desired degree of travel on a gravel bike is something which could be fixed by the designer. I'm fine with that.
But what about the rider's weight? Are we to assume that all riders of the Warbird are within a narrow range of body mass, say 150-160lbs? If so, what happens when a fat guy comes along and sticks an extra 60lbs into the equation?
Alloy frame / carbon fork
Tiagra Front and Rear - BB86, 34/46T Crankset with Tiagra RD-4601, 10-speed cassette
SRAM DB BB7 front and rear brakes
Schwalbe Sammy Slick 35mm tire with wire bead (Fit up to 42mm tires
Class 5 VRS (Vibration Reduction System)
Custom-butted, tapered seat tube
Frame accepts 3 waterbottle cages. TIG-welded in for durability
| | |
| --- | --- |
| Frame | 2016 Warbird Aluminum |
| Wheelsize | 700c |
| Tire clearance | 700c x 42mm for frame; 700c x 44mm for fork |
| Fork | Salsa Warbird Carbon, 1-1/8 - 1-1/4″ tapered, 15×100 Thru-Axle |
| Headset-Upper | IS41/28.6 |
| Headset-Lower | IS47/33 |
| Seatpost | 27.2mm |
| Seat Collar | 32.0 mm |
| Front Derailleur | Bottom Pull, 34.9mm clamp |
| Bottom Bracket | PressFit BB86 |
| Crankset | 2x setup 39/53T Max. and CX1 setup 46T Max |
| Front Brake | 74mm Post, 140mm Rotor Minimum, 160mm Rotor Maximum |
| Rear Brake | 74mm Post, 140mm Rotor Minimum, 160mm Rotor Maximum |
| Front Spacing | 15x100mm Thru-Axle |
| Rear Spacing | 12x142mm Thru-Axle |
| Bottle Mounts | 3 |
| Derailleur Hanger | 687 Thru-Axle Part Number FS2339 |
| Cable Routing | Full Housing, Half Internal |
| Frame Weight | 1425g (51cm), 1500g (55cm), 1600g (56cm), 1570g (58cm), 1640g (60cm) |
| Fork Weight w/Uncut Steerer | 495g without thru-axle |
| Color | Army Green or Orange |
Replaceable Derailleur Hanger - 687 Thru-Axle Part Number FS2339
Clearance for 39/53T chainring set-ups
Replaceable Derailleur Hanger
Full carbon fork, tapered 1-1/8 to 1-1/4" steerer, thru-axle, 160mm disc brake rotor compatible
Designed for lightweight, pedaling efficiency while gravel racing.
Alu Frame Increased Compliance Compared with Ti Frame
Then there's the chainstays and the welded joint where one wouldn't typically expect to find a welded joint. Rather than speculate, I decided to contact Salsa direct to see if they'd be willing to share some of the hoodoo behind this system.
Here's the response I received from Andy Palmer at Salsa Cycles (via email):
The chainstay is actually a two piece design. The area after the weld is forged, and we use it on all sizes of bikes. This helps us with price. Forging also has the ability to make a part more intricate in order to save weight. 

The area in front of the weld is the main part of the chainstay. They are different for every size, and is what allows us to tune part of the ride and feel of the VRS system. 
Interesting.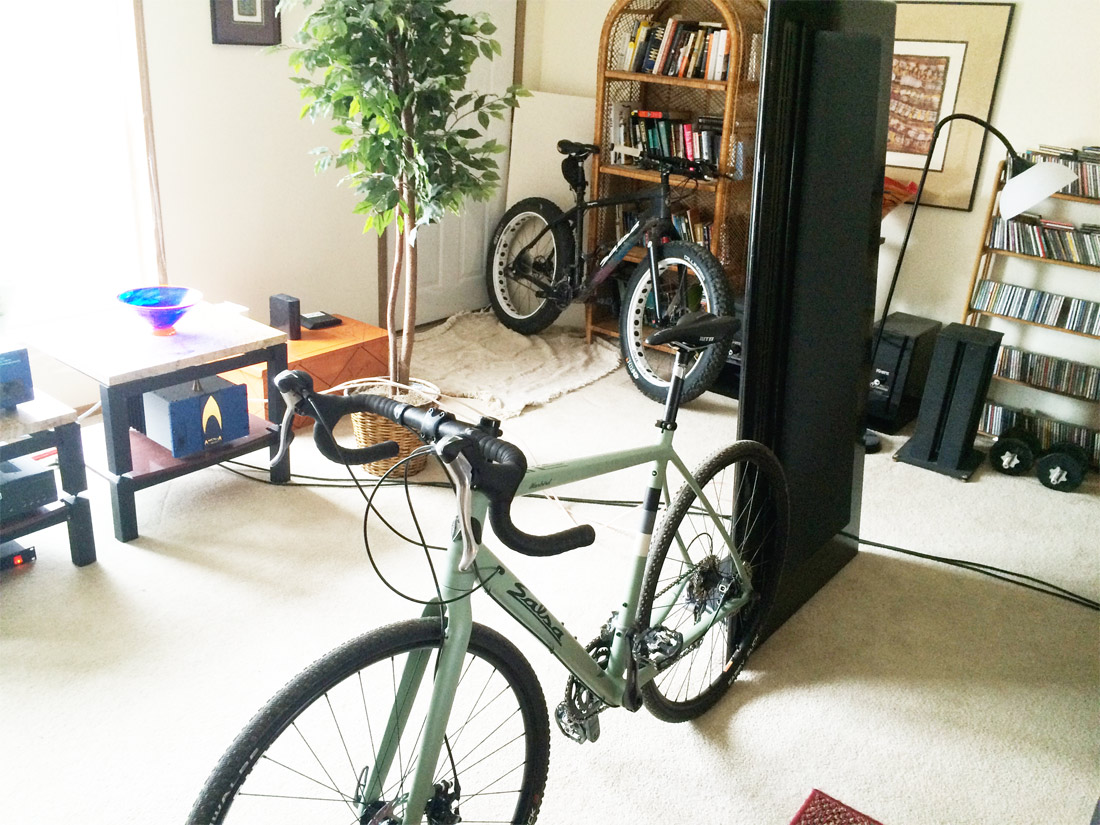 So How Does The Salsa Warbird Ride?
Let's dispense with the waffle and ride this thing...
It has been a while since I last rode anything that was remotely akin to a road bike. I've been riding a Hardtail 29er and my fat tire bike, the Salsa Beargrease, for the last year or so.
Back in October I spent a long and miserable day aboard a Trek Domane, tooling around the roads here in Door County WI. So it is to that bike that most of my immediate comparisons are drawn.
First off, when choosing a new bike one has a list of priorities and the task is finding a ride that checks off all of the main priority boxes. Some of the lesser requirements can be overlooked if the main priorities are covered.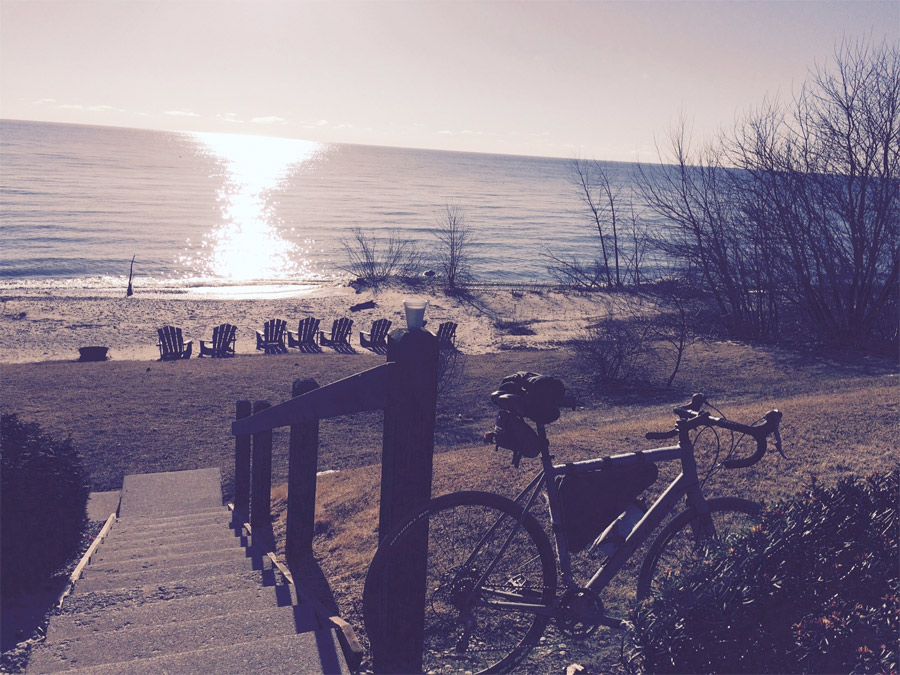 For me, at the top of the list of personal priorities is ride comfort. I'm quite tall, at 6′ 4″ and if I spend too much time too crouched over it hurts my lower back. So I need a fairly relaxed geometry. Also, I don't appreciate a bone-shaking ride as that quickly becomes tiresome, particularly on longer distance rides as I'm prone to undertake.
So there's rider comfort derived from geometry and there's rider comfort derived from the bike's ability to dispense with uneven and rough surfaces.
The Warbird scores 5 stars for ride comfort, both for its geo and for its ability to soak up the shocks.
The geometry for me is perfect. The hood position sits nicely and my hands land naturally at the top of the hoods with the seat in a central position, without me feeling too stretched out. Riding the lower drop position is actually quite comfortable too, I'm able to spend 15 - 20 minute intervals in the lower drops without feeling it in my old back.
So far so good.
Asphalt
The ride quality is simply amazing. I'm still riding the bike with the stock 35mm tires and mostly I have them inflated up around 70psi. That's pretty high given the quality of roads in this area, yet the bike rides smooth as silk.
The forks take most of the sting out of the poor surface conditions and the VRS stops much of the broken surface rumble from hitting me in the seat.
Compared to the Trek Domane, the Warbird glides along like a Bentley Continental.
Dirt / Trail
Getting off the asphalt for the first time and hitting a dirt trail, I started to get a handle on what this bike is really about.
The transition from asphalt to rough trail is seamless. There's no stopping to adjust tire pressures or change seat position or anything else. Just point the thing at the trail and ride! The carbon fork deals well with hitting smaller rocks and roots and you never feel that the bars are going to be torn from your grip.
The fork angle does give the bike a real responsive feel and you do need to exert a tight rein to stop the bike getting bounced sideways when going through the real rough stuff, but it's just a case of getting used to the race-like handling and feel.
I really love the way this bike handles and the way it instills a sense of confidence in the rider. Of course it isn't going to compete with a fat tire bike when going over the real rough stuff, particularly with the 35mm tires, but so long as you ride with some degree of common sense and a reasonable amount of caution, it won't let you down or get you into trouble.
Gravel
I ride the Ahnapee State Trail regularly, and I've ridden it on several different bikes, including a couple of 29ers, a couple of different fat bikes and a 26″ MTB. It's a tightly packed gravel trail which runs from Sturgeon Bay to Algoma WI, then off to Casco and Kewaunee - about 35 miles or so. The trail is an old freight line so it's pretty flat and even, and I found myself easily hitting the highest gear on various sections of the trail, pumping away at 20+ mph.
Flat out there's some chatter on the rougher stretches of gravel. I don't quite know how best to describe it, chatter is the only term I can think of. The speed at which the chatter comes into play is higher than I've hit on any other bike on gravel, so I can't be certain if it's a function of this specific bike or just a consequence of riding fast over a gravel surface.
It occurred to me that the instigator might be the flared seatstays and the VRS system. I can't believe that would be the case, but it has occurred to me so I thought I'd mention it here.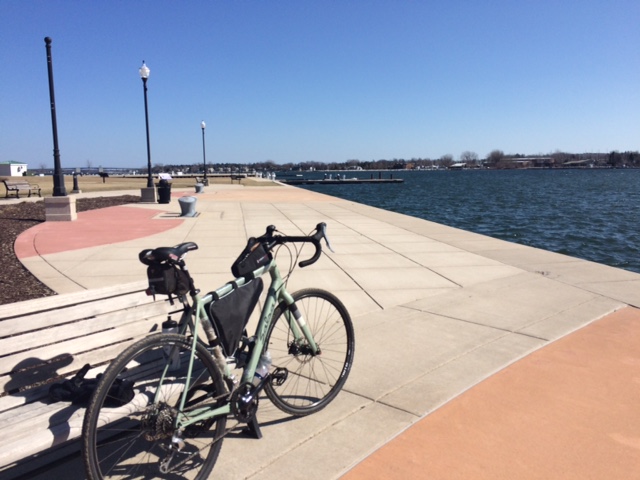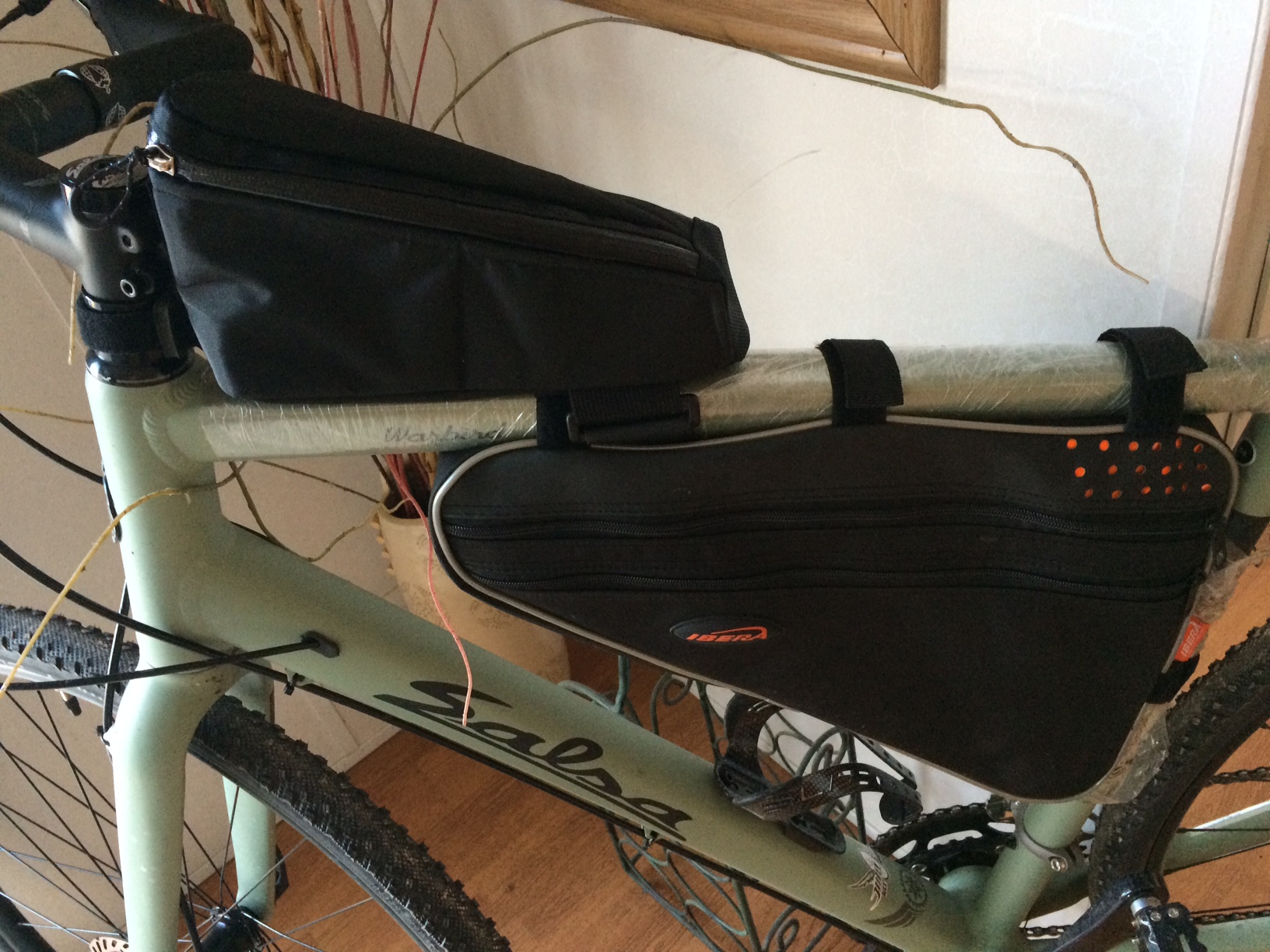 Bikepacking
I mentioned earlier in the review that no bike is perfect and there are bound to be some trade-offs. For me, the only real disappointment with the Salsa Warbird is the lack of braze-ons. I have various setup options for bikepacking, including pannier racks for my Ortlieb Back Roller Classics and various bags from Revelate designs [Viscacha, Sweetroll and Gastank Reviewed Here]. I also have a seatpost mount pannier rack that I can use at a pinch, but it does make me a little nervous about dropping the bike and having the bag go into the spokes.
So far I've kept my trips short and made them credit-card trips, so the Revelate Designs Sweetroll, Viscacha and Gas Tank, along with an Ibera Frame Pack have carried all the gear that I need.
[image shown without the Revelate Designs Viscacha mounted]
Under the moderate extra weight, around 20lbs, there's really no noticeable difference to the way the bike handles or feels. I'm pretty confident that sticking another 20lbs into the mix wouldn't change things too much either, but time will tell.
I may need to change the gearing on the Warbird if I plan to do any longer tours, more fully loaded. I do struggle with hills in the granny gear and find myself out of the saddle more often than is comfortable.
Conclusion
Over the course of the last six weeks or so I've logged over 500 miles on the bike with around 15-20% of those miles off-road.
The Warbird is light, agile, fast and extremely comfortable. Turning the screw on my old and knackered body I've hit a 18 mph average over 35 miles of mixed terrain in breezy conditions, so the bike doesn't leave much behind when it comes to speed.
But the real acid test for me was my first century ride on the Warbird.
Riding from home I covered around 20 miles of asphalt before hitting the Ahnapee gravel trail. Eighteen or so quick miles on the trail brings me out to Algoma and back on asphalt. A 20 mile road ride to Potawotomi State Park then 10 miles tooling around on the internal park roads, some rough dirt trails and even some gnarly single-track (which was hard work with my tire choice and the 75psi !).
Leaving the Park, around 35 miles of asphalt takes me back home to Egg Harbor - 103 miles covered in 6:48 with a 15.1 average, not too shabby for an older dude. And it was very much a recreational ride, no hard-push, just riding around and admiring the scenery for the most part.
My comfort level throughout the ride was about as high as it could be. No numbness in the butt, no cramps, no lower back pain, no aching shoulders or neck. Sure my legs were stiff but that's normal for me on anything over 50 miles.
So I believe I've found the right bike for my riding needs. It really is a versatile bike, I can take it pretty much anywhere and even get away with riding skinnies at road bike pressures on lighter dirt trails.
I'm looking forward to exploring more of what this bike can do in the coming months. Wider tires / lower pressures and a blast through the rocky sections at the local State Park; then some fully loaded touring to see how things work out with the extra weight. And more gravel trails, perhaps the Mountain Bay State Trail out to Wausau and back - close to 100 miles round-trip on nothing but dirt and gravel - the stuff of dreams.
FMB
May 1 2015