In my review of the Charge Cooker Maxi 2 Fat Bike, [here], I focused on initial riding impressions. Having lived with the bike now for several months, and encountered a broad range of riding conditions, I just wanted to add this as an addendum to the initial review.
First of all you might remember that I needed to change out the cockpit from how it arrived in stock form. I ended up with a set of Spank riser bars which gave me a net gain of about 1.25″ in height and also an increase in width, up to 800mm. The extra height works much better for me. It takes a bit of pressure from my lower back and I feel less crouched over. Even though it's a little more than an inch, it has made a big improvement.
I also changed out the stem to a shorter version. This too worked well.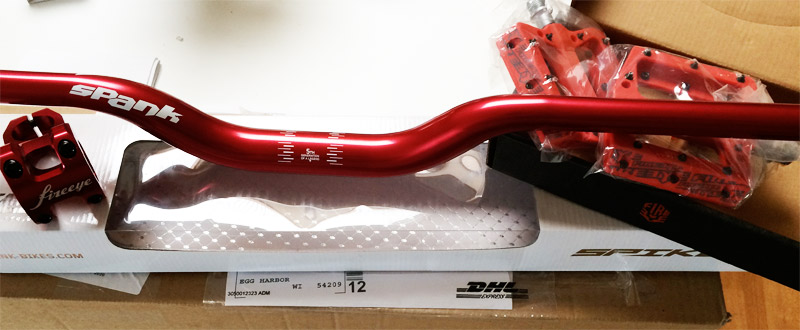 I switched the pedals to new platforms. I'm not ready to move to clipless at this point as I spend too much time with my feet down!
Tires
The stock Vee Rubbers are fine for dirt and even worked reasonably well on wet leaves and light mud. But as soon as the snow and ice landed I had my first big crash, followed by too many washouts for comfort, so I upgraded to the On One Floaters, which are reviewed here
The Floaters are great tires for the money. They work really well in snow.
So with the above adjustments I can say that I'm pretty happy with the Charge Maxi Fat Bike. It does everything I expected and for a mid-level bike I think it has probably exceeded my initial expectations.
Here's a few pics to round off with: