I'll try and keep this fairly short and to the point. I've been wanting to ride the CAMBA maintained Chequamegon National Forest trails for about nine months or so, and I finally got around to making the longish trip north on Thursday 25th June 2015.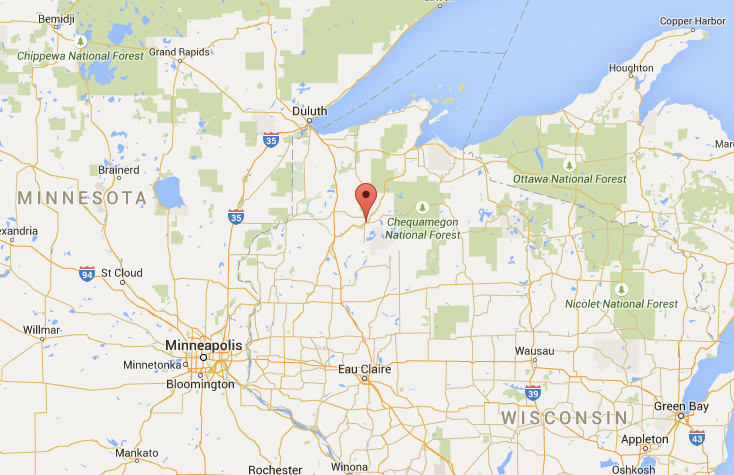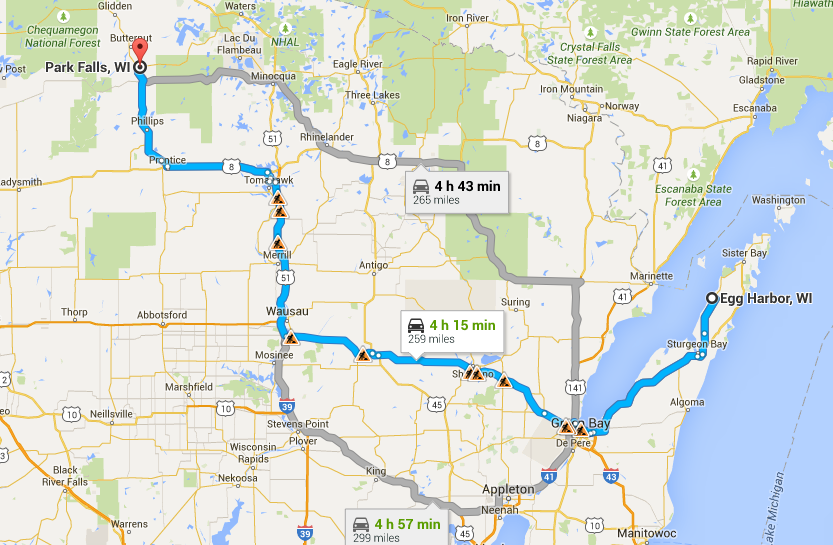 DAY ONE
I set off on the 4 hour+ journey by car at around 8.45 am on Thursday, arriving at my destination in Park Falls WI at a little after 2pm. It was probably a mistake staying in Park Falls as it involved an hour by car to get to/from the trails, but I was having trouble finding available accommodation in the Hayward area due to making plans for the trip at the last minute.
I should give a shout-out for Priceline.com and Captain Kirk, as I was able to snag a reasonable hotel for $50/night using their 'Best Offer' system. I'd almost booked the same hotel for $75 a few minutes earlier on a different website.
Thursday's ride was short and not too sweet. After getting unpacked at the hotel it was close to 3pm and I decided it wasn't worth hopping back in the car to head for the 'official' Chequamegon Trails, an hours drive away. So I grabbed a map from the hotel foyer, went off to the local Ranger station to get my Park sticker, then headed out to the Wintergreen Trail system less than 10 miles from the hotel.
The trail was pretty short but it gave me a fair idea of what to expect over the next few days. It was quite swampy in places and entirely mosquito infested. In my rush to get unpacked and out the door I'd left my bug spray back at the hotel. I'd be sure to get better organized for the following day.
So I kept the ride short, fewer than 10 miles through the rough barely passable wooded trails, with fallen trees, swamps, bugs and Lord knows what else lurking a stones throw away.
That night I ventured down-town Park Falls and found a great little 'Supper Club', 'AJ's Bar and Dining'. It was the classic Wisconsin Supper Club layout - well stocked cocktail lounge, open-plan dining area and a soup/salad bar for your dining pleasure.
It was excellent. I started off with a Mexican beef soup and a large mixed salad, then the Chimichanga plate, followed by a Sundae and a pot of coffee. I couldn't believe the bill - less than $20!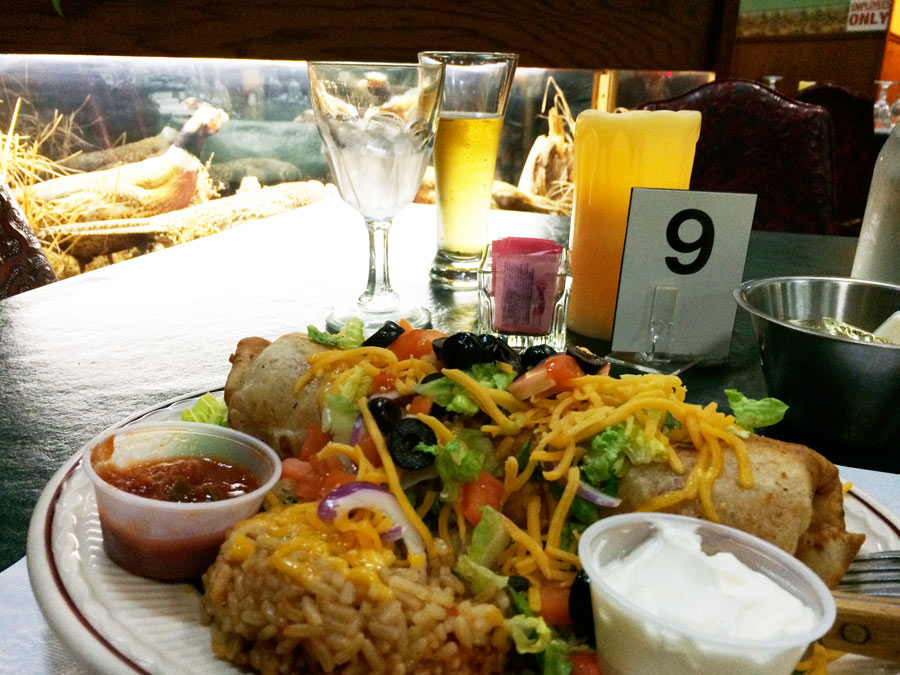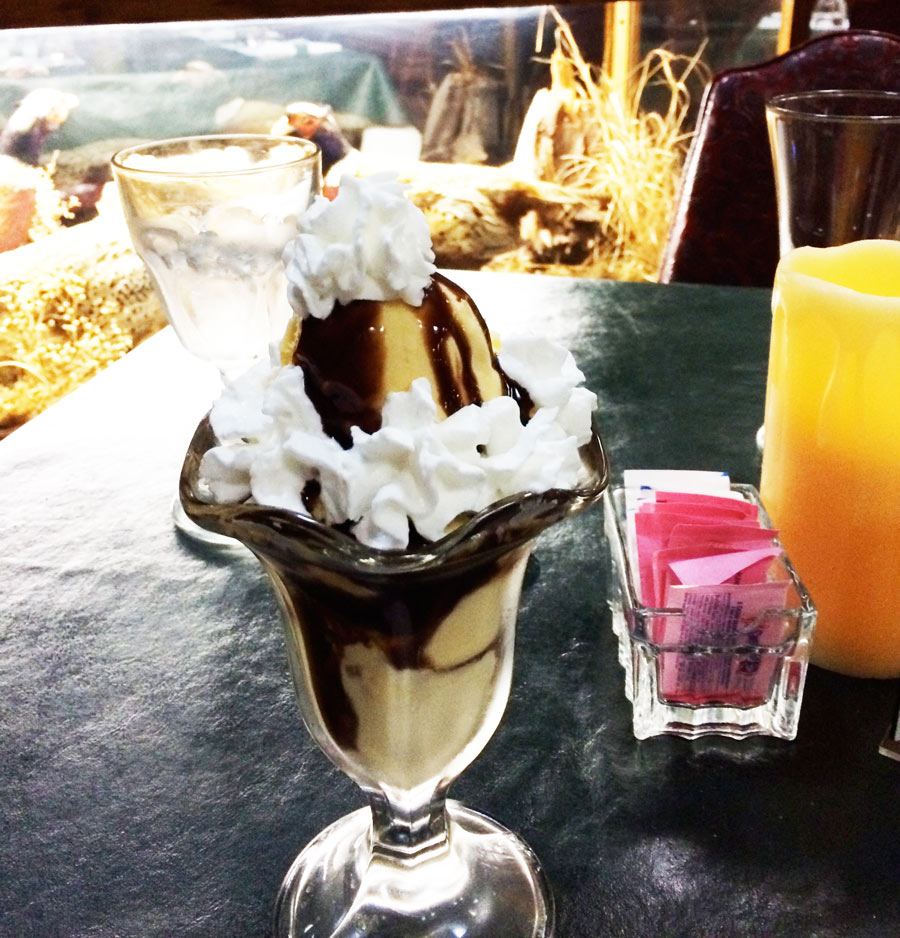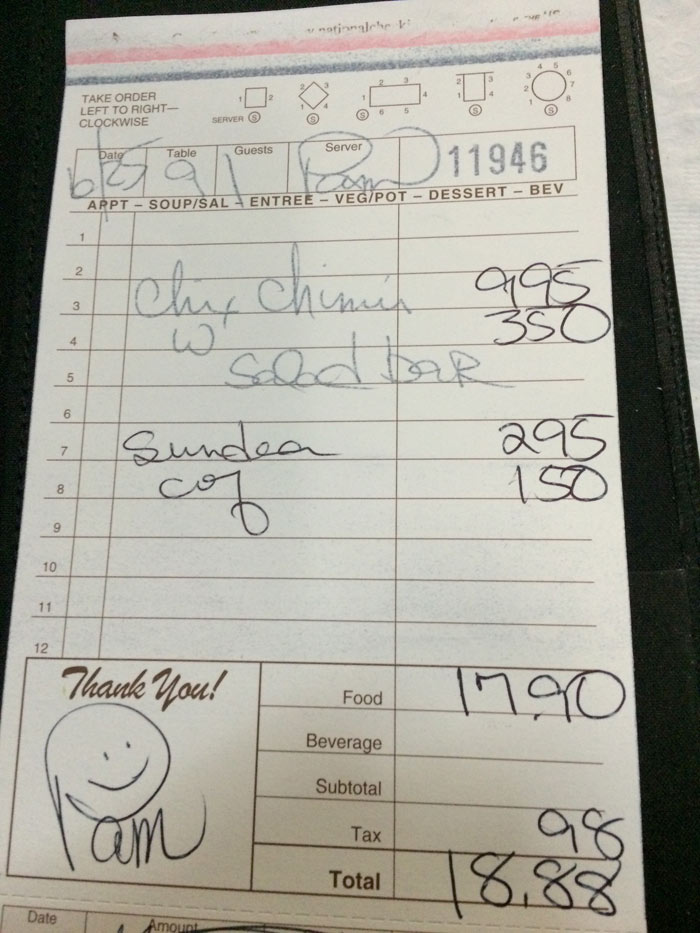 DAY TWO
Friday morning I was awakened around 5am by the sound of some dodger warming up his diesel truck in the parking lot. I'd set my alarm for 6am, so I wasn't too upset at getting the earlier wake-up call.
I was en-route to Hayward by 6am and seated for breakfast at a nice family diner in down-town Hayward WI by 7.30am.
After collecting supplies and spending time with the maps, I drove the 10 miles out of town to Gravel Pit Lane, my chosen Trail-Head for entry to the Hayward Trail Cluster.
I'd actually purchased official Camba Maps about six months earlier so I had a good idea of the layout and routes etc. Basically there are seven main trail 'clusters' –
You can click any of the above links to see trail information at the official CAMBA website. (Chequamegon Area Mountain Bike Assoc.)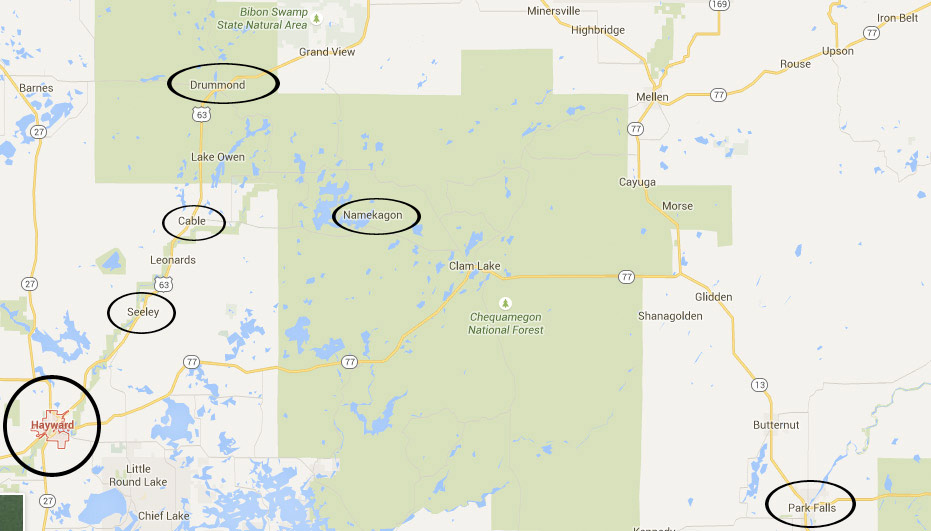 The above map shows 5 trail clusters along with my base at Park Falls off to the right.
Despite having maps well ahead of time, I'd done very little planning. The opportunity for the trip had sprung at the last minute, and my approach to the trails and which to ride was dictated by proximity to accommodation, time available etc, so it was pretty much a case of making it up as I went along.
Each of the main trail clusters is comprised of individual trails of varying length, terrain and degrees of difficulty, each beginning at a designated Trail Head. The trails are adequately described on the CAMBA website and on the official CAMBA maps too, so I picked the Gravel Pit Trail Head at the Hayward Cluster as my starting point.
From the Gravel Pit Trail Head, 5 trails were accessible - I've included descriptions taken from the CAMBA website for the first three trails below so you can get a feel for what information is provided:
Bar Stool Trail - Distance: 6.2 Miles
Difficulty: Easy
Trail Type: 70% two track, 25% dirt road, 5% shared ATV trail
Description: Old logging roads and firelanes.
Makwa Trail (North to OO) - Distance: 7.2 miles point to point
Difficulty: Intermediate
Trail Type: 100% single track
Description: Twisting, climbing, moderate technical challenge, super-flowy trail. A CAMBA favorite.
Makwa Trail (South to Mosquito Brook) - Distance: 5 miles point to point
Difficulty: Intermediate
Trail Type: 100% single track
Description: Twisting, climbing, moderate technical challenge, super-flowy trail. A CAMBA favorite.
Plantation Trail
Trail Descente
And so after taking a while trying to figure out where to park, I geared up, lotioned up and set about exploring the trails.
It was a no-brainer as far as choice of ride - Salsa Beargrease Fat Bike.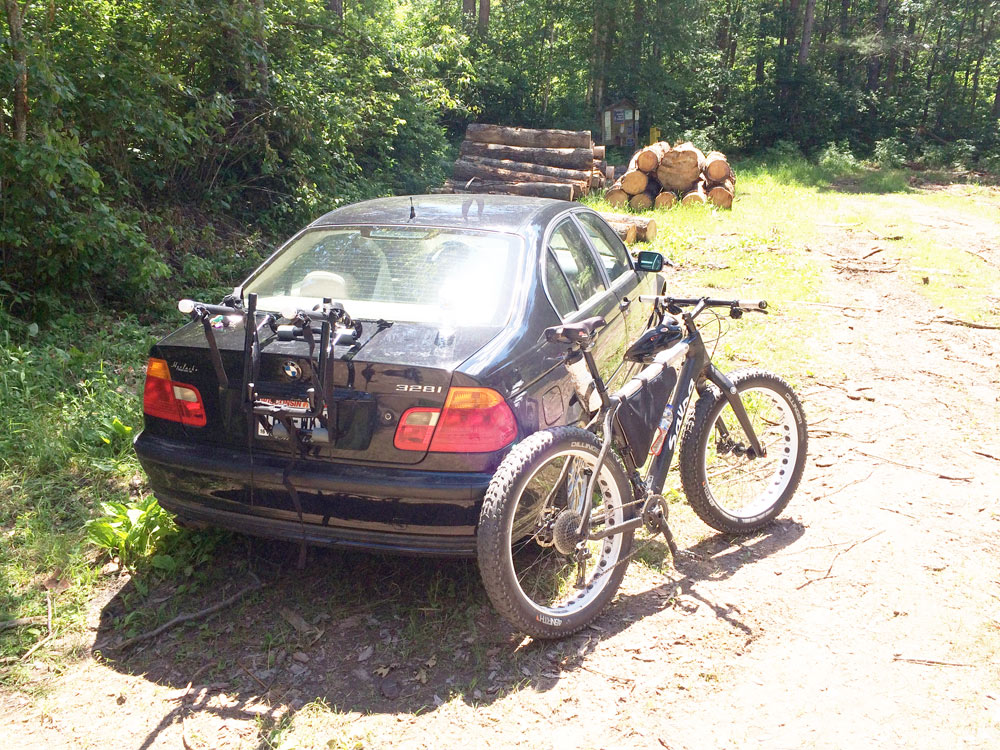 I started the ride basically scouting the area by riding the dirt/gravel roads which interlink the various trails. The area was well marked, both the trails and the interconnecting roads. There were even a couple signs off to a local watering hole and bike rental/repair business.
After an hour or so of riding dirt/gravel I ventured into the woods and tackled the first 'Intermediate' trail, the 'Makwa'. It was windy-twisty up-down through deep/thick vegetation/trees. I wasn't unhappy when I emerged unscathed at the other end and back onto the more comfortable dirt track/road.
I concluded later in the ride that the Salsa Beargrease, or any Fat Bike for that matter, is made for this type of riding. With tire pressures set somewhere between 6 and 8 psi, it soaked up all of the rocks, roots and other hazards with aplomb. The only downside is switching between single-track terrain and gravel roads and finding a good compromise with tire pressure. It would be nice to run above 10psi on gravel/dirt, then drop down to 3 or 4 psi for roots and rocks. But it isn't practical to stop and re-inflate tires as it takes too much time and effort with a small hand-pump.
But otherwise the lightweight Beargrease sails over rough single-track and gives the rider the maximum amount of confidence in the quest not to come unstuck! I could NEVER have tackled this trip on the Salsa Warbird gravel bike.
After a couple of hours tooling around the dirt roads and dipping my toes in the trail waters, I started to feel a little 'spooked'. I hadn't seen another person since I drove out of Hayward several hours earlier and the isolation was starting to fuel my imagination. There had been several warnings about black bear and one guy at the local bait shop where I'd picked up supplies after breakfast had warned about riding the trails alone.
I was also becoming preoccupied with thoughts of a mechanical failure that might leave me stranded. A broken chain or a snapped derailleur could've necessitated a long, long hike through the woods with only a minimal supply of water on hand.
At one point I pulled over for a rest and I noted that my iPhone was showing 'No Service'. It remained without signal each time I checked it during the course of the day. It was the same with Google GPS - No Service Access. So all of this, plus the wildlife risks, were beginning to weigh a little heavily and take the edge off my enjoyment just a tad.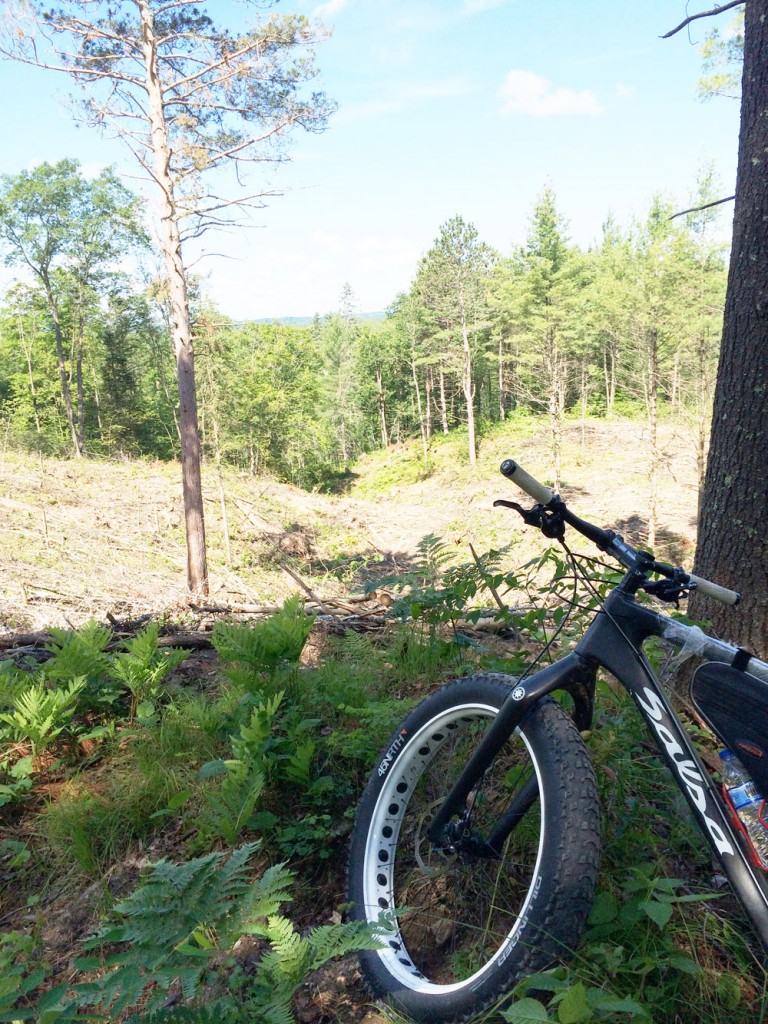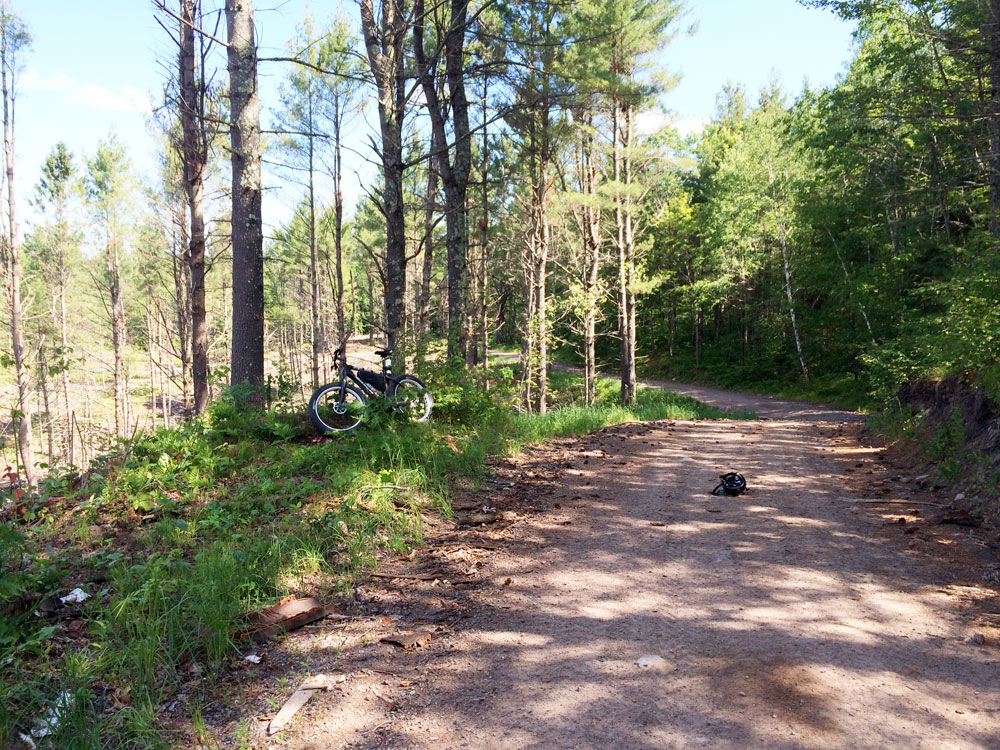 I suppose on reflection I'd expected to see some people out there, riding around, like me. I didn't see another soul until late that day when I was loading the bike ready to head off back to the hotel. Two other guys on mountain bikes rode past looking for one of the trail heads, ready to begin their adventure in the woods.
I guess I was fine riding the dirt fire roads, but venturing deep woods on technical trails was a little unnerving. Particularly given my attitude towards wildlife beginning with the letter 'S', and other more furry animals which I'd never actually encountered before during my rather sheltered and pampered existence.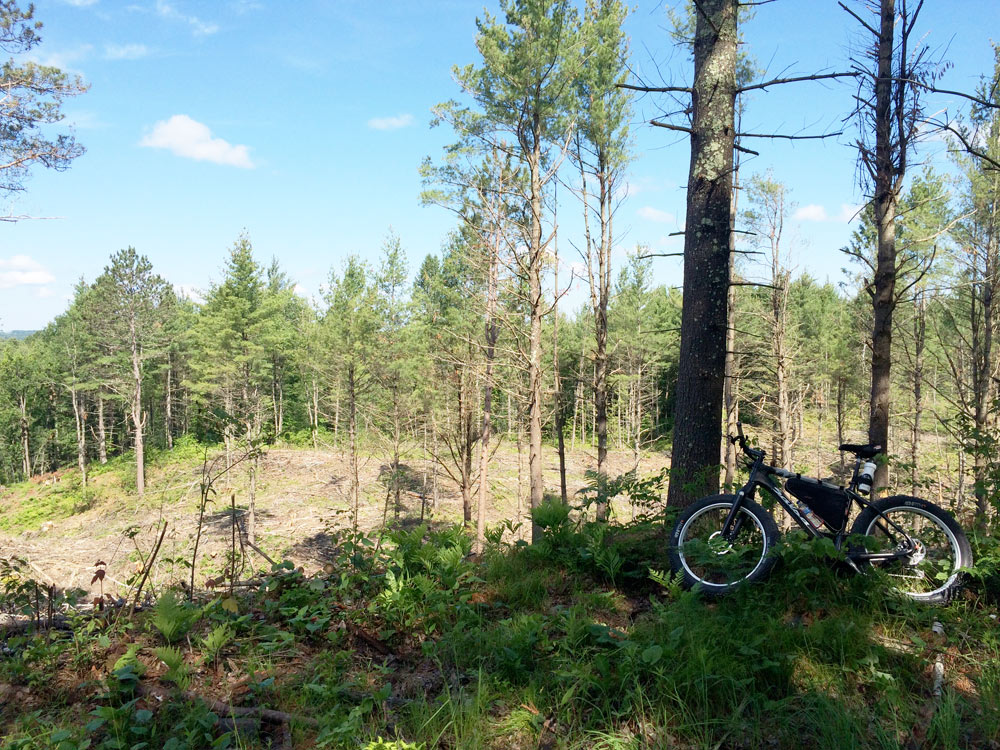 It was overall, enjoyable. But around 4pm I was hot and tired and ready to load up and head back to Park Falls for a long cool shower at the hotel.
That night I explored a little more of downtown Park Falls including the bowling alley and a couple of colorful local taverns, then headed back to AJ's for the fish buffet and more sweets.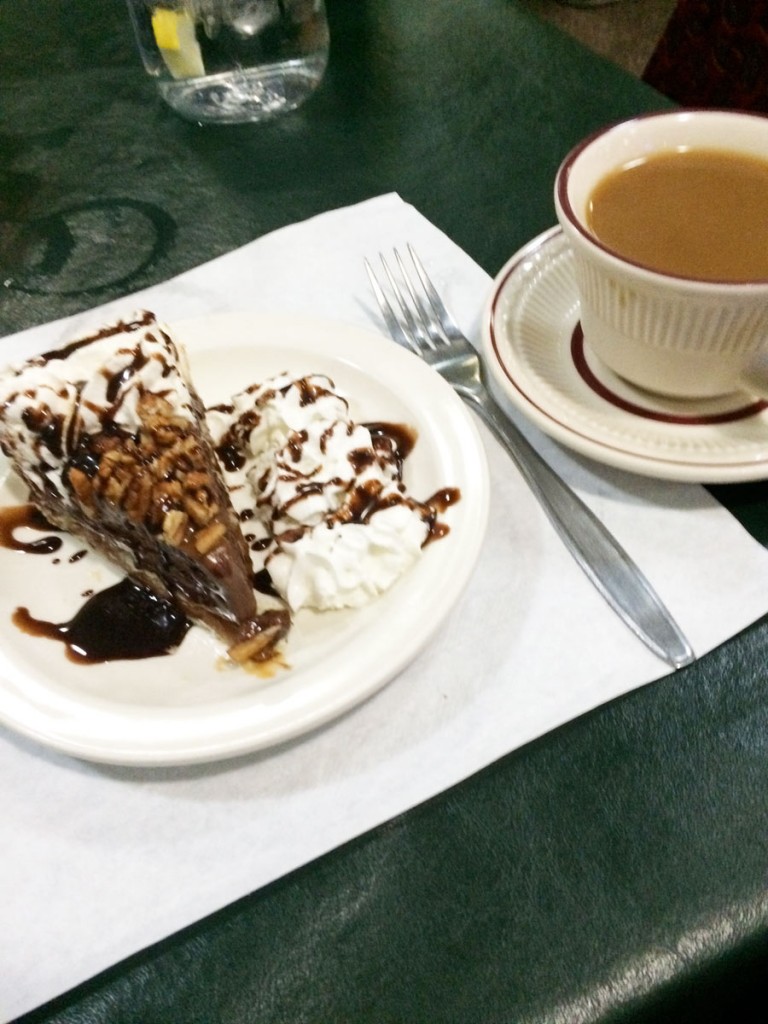 DAY THREE
Saturday morning was another noisy/early start. This time I hit the road for Cable WI to try my hand at the Cable Cluster of trails.
In fact after hitting the 'Short and Fat' trail for a spell, and spending time fighting with insects, thigh-high grass, fallen trees and other impediments to progress, I decided to re-focus and spend more time on the dirt/gravel roads. So I headed south on a fantastic section of fire road which took me around the area, weaving and winding through the trees until finally hitting Telemark Road which I took through to the top of the Hayward Trail Cluster. I'd pretty much abandoned maps and any planning at this point, so I was a little surprised when I popped out onto the highway and recognized directions to a watering hole that I'd seen the previous day. So I ventured off down an ATV trail running parallel with the highway to find 'Beer Bellies' for a spot of lunch.
The buffalo chicken wrap was OK, a little greasy. It sat heavily on my stomach for the next two hours, at least. A big mistake to eat so much food then hop back on the bike and ride.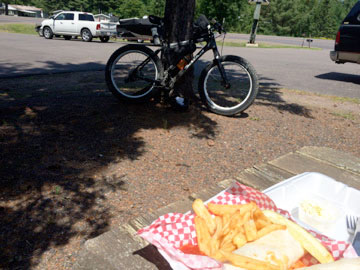 After lunch I rode the dirt trails back north, venturing off here and there for some shorter off-road trails including the 'Camp 38' trail, which was a great section of fast dirt track with man-made bridges, cambers and even some bumps over which a faster rider might have become airborne!
The scenery was quite spectacular; in an understated way that only Wisconsin seems able to pull off….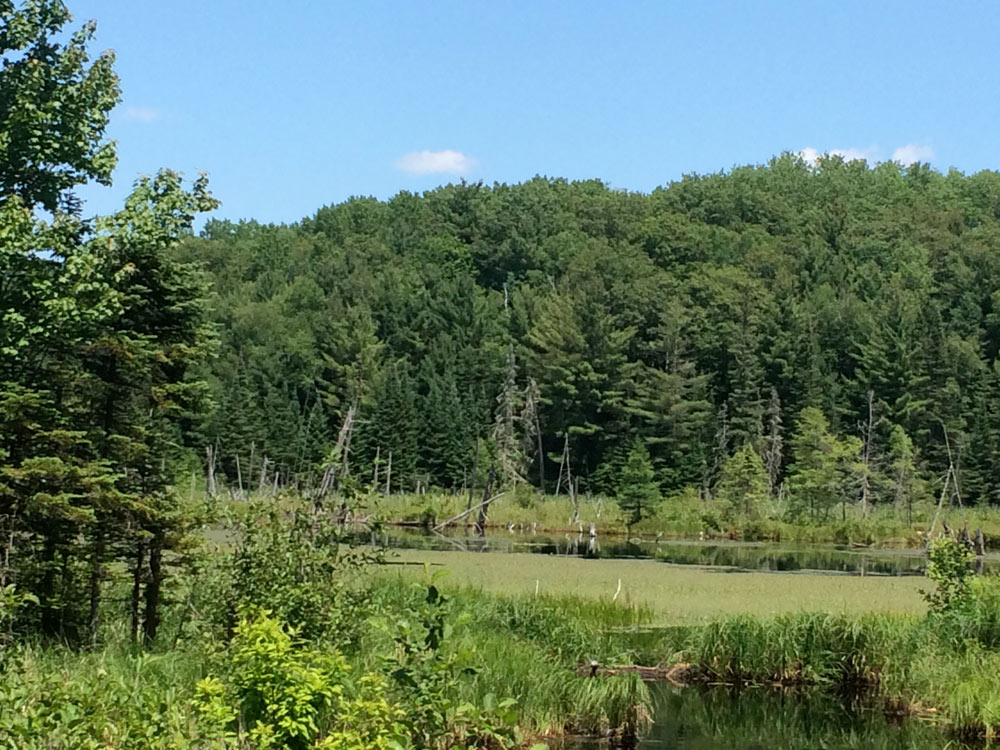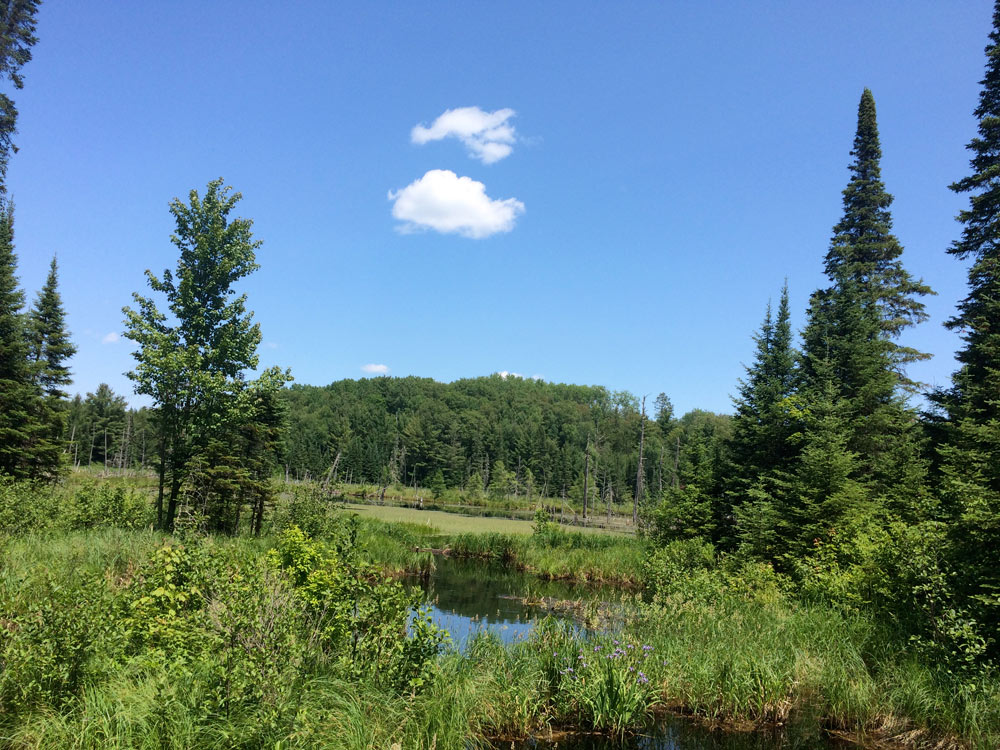 I took a detour down Rock Lake Road for an hour or more of hard up and down on gravel/dirt, and eventually came upon the Namakegon Lake area and the highway back to town. I'd exhausted food and water at that point so I was happy enough to use a short section of paved road to get back to the car at around 4.30 pm.
Hotel - shower - back into town, this time for some great Chinese food at a little place just a block from the hotel. Then to McDonalds for sweets and coffee and back to the hotel for my last overnight stay in Park Falls.
DAY FOUR
There really wasn't a day 4. I'd toyed with the idea of riding for a few hours then making the long drive home later in the day. But I decided to have breakfast then get on the road home.
Overall this was a pretty enjoyable experience. The scenery is quite spectacular, but after a day or so one gets the overwhelming sensation of being 'enclosed' by the surroundings. Riding the trails and even the interconnecting roads one always feels part of the scenery and never really able to step back and look down upon it. There were no scenic overlooks or grande vistas, it was entirely experienced from the inside trying to look out. If that makes any sense at all!
The trails were exceptional. Though I wouldn't recommend that anyone should try this experience unaccompanied. It was really a foolish thing to do from a safety perspective, but also, it all became a little too 'isolated', even for someone like me who cares less about being around other people most of the time. I think it would've been more enjoyable having someone else around to share this with. There, I said it.
FMB 2015