I started this cycling nonsense on May 5th 2014.
It really started in earnest when I bought a new iPhone (my first ever 'smart' phone) and downloaded the 'MapMyRide' app. My first recorded activity on the app was on Sunday May 4th when I took a 3 mile walk.
On Monday May 5th I took a bike ride at the Peninsula State Park in Fish Creek WI - 8.07 miles. I remember the day quite well. I was riding my wife's old Schwinn MTB - a girlie step-through bike with twist-grip gears. It had sat out in the yard all winter, buried under a pile of snow. On Sunday 4th I'd extracted it, put some air in the tires, lubed the chain and cables, raised the girlie seat and had it all ready to go out and do some damage on the trail.
I think the exertion of lubing the thing and inflating the tires really took its toll on me, as I wasn't ready to actually ride it until the following day, Monday May 5 2014. Maybe I'd just needed more time to psyche myself up.
There was no way I could've ridden to the park back then, that would've added 16 miles to the trip and I would never have made it home in time for Spring. So I loaded the bike into the back of the SUV and headed out.
The Sunset Trail was still frozen and littered with patches of ice and rutted snow. I didn't want to ride, but I felt it was time and I simply had to. I'd lived in Wisconsin for 15 years at that point in time and I'd never before ventured out to attempt anything remotely recreational in the winter months. Well not since 2000, my first year in WI, when my wife hauled me kicking and screaming to try my hand at XC skiing. That's another story for a different blog.
Anyway, back to the Park.
Eight miles was a lot back then. I was sore the following day but I packed up the car again and headed back out. I rode 11 miles on Tuesday and actually walked 4. It was five days before I rode again, but this time I was up to 13.28 miles.
And that's how it all started. In the cold and wind of the dying days of a Wisconsin winter.
I'm now just past my one year anniversary and I'm quite pleased with my last years' statistics on MapMyRide –
250 bike rides logged to date.
5,227 miles covered.
440 hours in the saddle, sitting on my poor old chicken bones.
299,407 calories burned.
3 Century rides completed, along with several in the 75+ range, including 170 miles over two days on a Fat Bike.
What that stats don't show-
Five new bikes - two of which I still own. The first one imploded mid-ride and left me injured on the roadside. "You've completely trashed it" was the official statement from the bike shop owner when I took it in asking for warranty work in my fourth month of ownership.
And, many, many memorable experiences, of which perhaps only 25% were actually good. I'm asked quite frequently some variation on this question 'you must really enjoy it?'. It isn't always posed as a question, often it comes as a logical assumption, I mean why else would I do it?
The fact is, many of the miles traveled haven't been particularly enjoyable miles, but I'd do every last one of them over if I had the choice - no regrets, none at all.
It's an odd thing when you're out on the bike in the middle of a Wisconsin winter. The temps are below freezing, the wind is howling, one's extremities are painfully frozen…… it's hard to think of that as being enjoyable, yet the following day we're back for more.
Anyway, that's all, really. I'd be curious to hear what others think about the agony/ecstasy conflict of spending time on a bike. How do you reconcile the two to a point where it makes sense, or do you even try?
My Anniversary Bash - you're invited.
As a treat to myself I've registered for 'The Bear 100' up in Laona WI, this coming Saturday, May 23rd. That's tomorrow as I post this blog, so I'm busy between working on some last minute client issues, writing this and getting all of my stuff together for the trip.
This is roughly where I'm at as of 10:30am Friday, with a 1.30pm exit time planned –
I have a scheduled tire change at the LBS - Broken Spoke Bike Studio in Green Bay, WI. I hope George didn't forget to order me some wider tires for the ride…!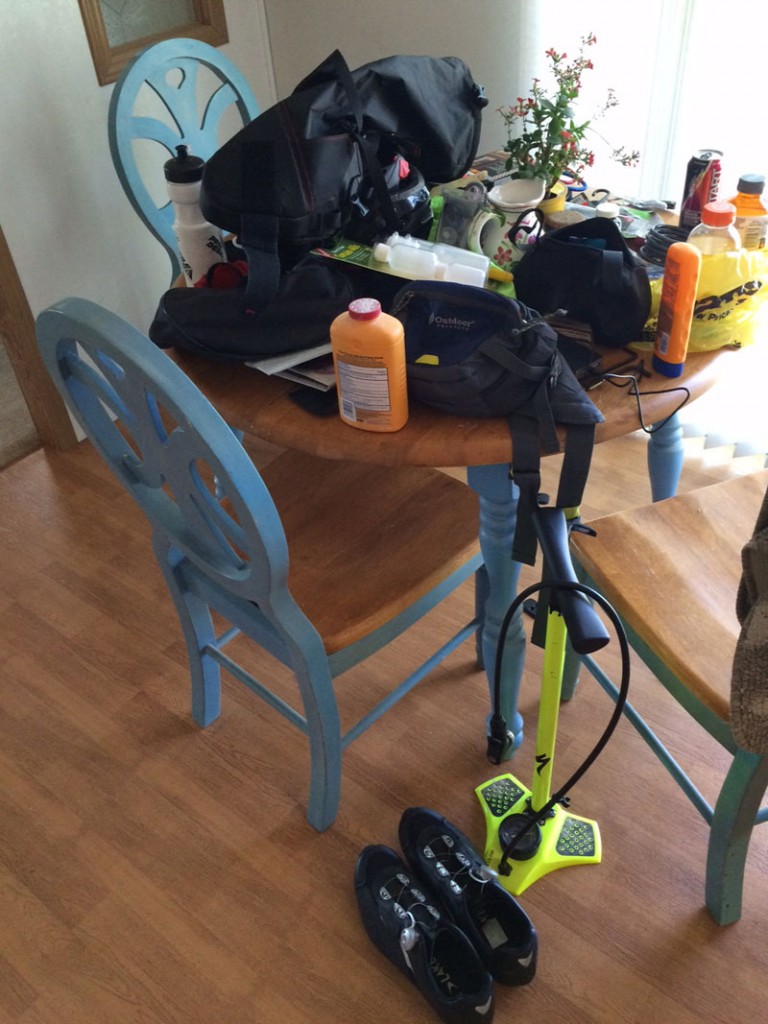 You can see that I have some work to do.
I've never done anything like this before and to be quite honest, I'm just not ready. But I'll have a go anyway.
I've spoken to two people who've ridden The Bear 100 and both tell me it's quite a challenge. Not that I needed to be told, but the emphasis that came with the two accounts has really filled me with some trepidation. My century rides to date have been almost entirely on asphalt. The Bear is almost entirely on dirt and gravel and there are some hills - lots of hills in fact.
The course, by all accounts, is a challenge even for experienced riders. I've never ridden these types of surface before, at least not on my Salsa Warbird
There's a 100m route a 100k route and a 25m route. Of the three my understanding is that most people attempt the middle distance 100k. In 2013, of the 65 riders who attempted it, only about half actually finished. But that was a cold day.
Saturday is expected to be warm and dry. Perhaps too warm for me. 75F will be the warmest temp I've ridden so far this season. And of course I'm registered for the 100 mile ride. No half measures.
Also, the ride is unsupported and there's nothing out there - no gas stations or places to pull-in and refill. So I'm carrying all the water I need (hopefully), along with a truck load of granola bars and cookies.
Anyway, I'm out of time….gotta go….