This is just a quick post to share a system I came up with to protect the paintwork on your bike frame when setting it up for bikepacking.
I've decided to use the Salsa Warbird [more info on the Warbird here] for most of my touring this season, so I went out and invested in a new bag setup.
There are basically two setups, and I'll post pictures here as soon as I have the bike setup for the first trip.
Camping
Seatpost mounted rear pannier rack and a pair of Ortlieb Classic Back panniers
Revelate Designs Sweetroll handlebar bag with a BM Works Speed extender
Revelate Designs Gas Tank top tube bag
IBERA USA Bicycle Triangle Bag (this thing was super-cheap and works great!)
Credit Card Touring
Revelate Designs Viscacha Seat bag
Revelate Designs Sweetroll handlebar bag with a BM Works Speed extender
Revelate Designs Gas Tank top tube bag
IBERAUSA Bicycle Triangle Bag
Compression sacks
The system for protecting the paint job involves wrapping the frame with cling-film. Simply wrap the frame in exposed areas with about 5 or 6 wraps, then tape over the bag strap attachment points with clear scotch packaging tape.
Here's a picture –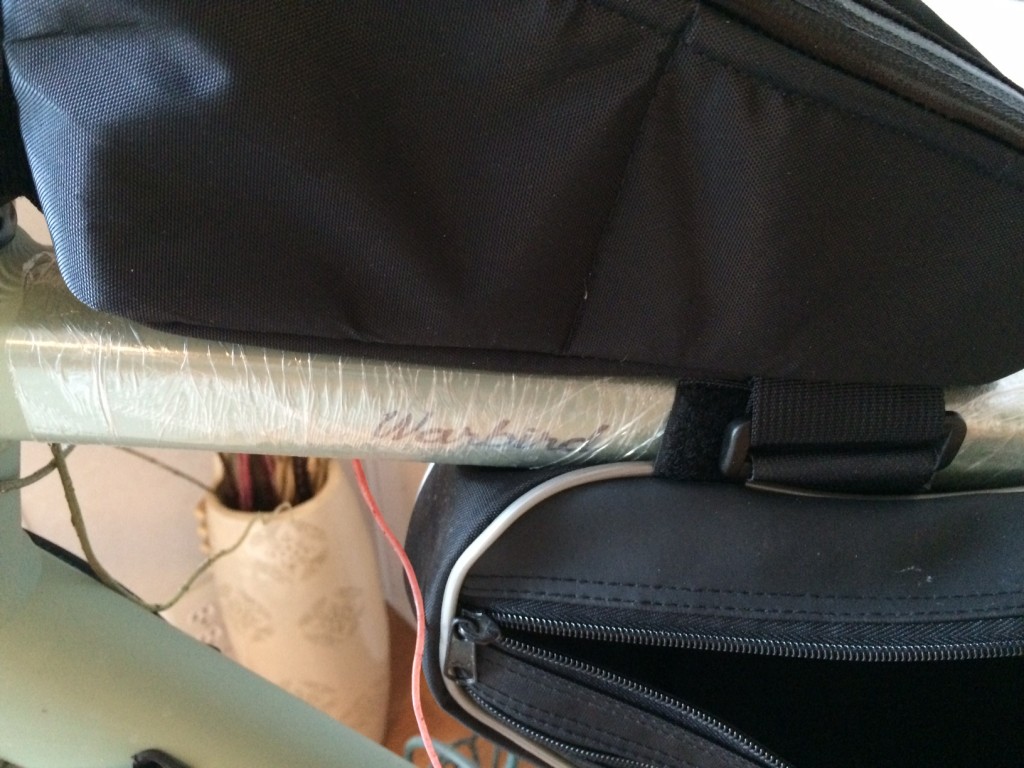 It only takes a few minutes to do and so far has worked very well. I'm keeping an eye open for any moisture that collects under the cling-film and will probably need to strip it down periodically to clean/dry and replace. But so far after a couple weeks of light use it looks just fine.
Using scotch tape under the bag strap attachment points helps to keep the cling-film in place and provides extra wear resistance at the attachment areas.
Incidentally, bike bags are damned expensive. The Revelate Designs Gas Tank bag looks like its worth maybe $5 or $6 and it set me back $50 !
But for a real bargain, try the IBERAUSA Bicycle Triangle Bag available for only $12.99 !! The thing fits perfect on my Salsa Warbird and on my Beargrease Carbon. It doesn't fill the frame completely so you can still use one water bottle.
Try this search on Amazon for Bike Bags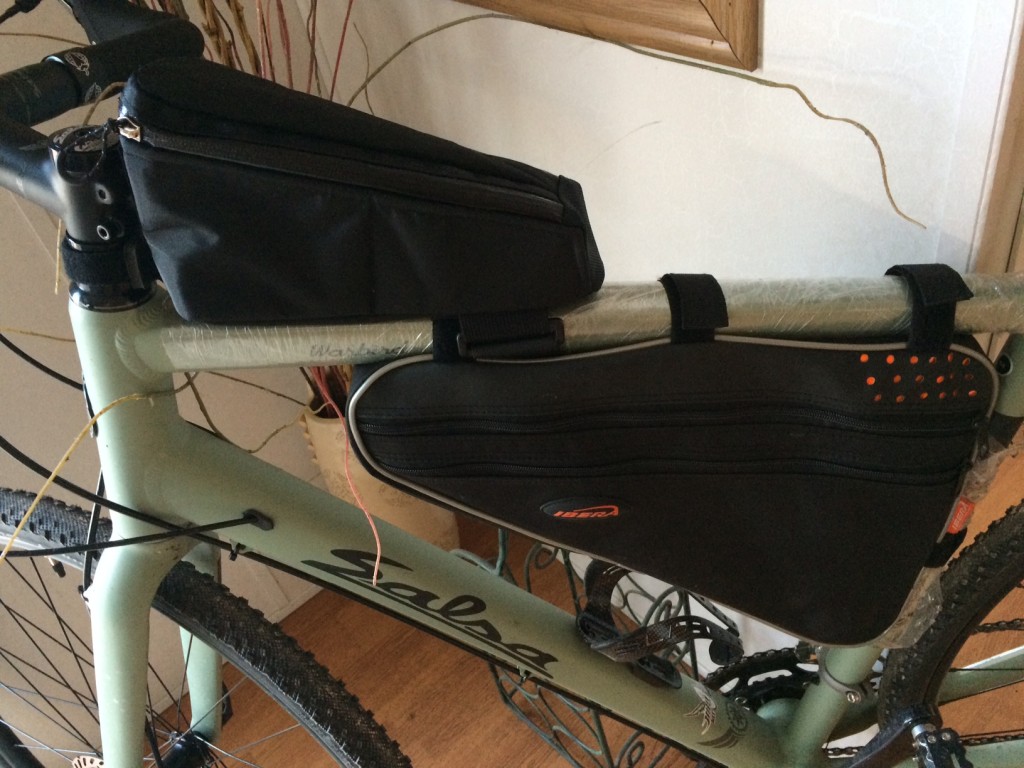 Anyway, this is all a bit premature as I don't have pictures yet, but I'll stop back and update when I pack for my first tour of 2015.
Meanwhile here's a picture of the Ortlieb pannier (a single) mounted on the seatpost rack on the Beargrease.
For those looking at the above with a single pannier, and wondering how it affects ride performance, I can assure you it doesn't! I thought it would but you really can't tell that there's only one bag on one side. I suppose if you were throwing the bike around on a rough trail then it might be an issue, but in that case I wouldn't use a seatpost rack anyway, as the bag would end up in the spokes at some point.
FMB
2015
Edit - Since doing this post I've reviewed the Revelate Designs Bikepacking gear, here.