How does that old joke go? - The woman is lying down on the psychiatrist's couch and the shrink asks:
"Do any of your family members suffer from mental illness?"
To which she replies:
"No, they all seem to enjoy it".
Though it's not good to make light of these things I feel like I need to start off by explaining the reasons behind my actions on Friday 13th. (March 2015).
In short –
There's been a lot of forum chatter concerning the use of fat bikes as a year-round steed.
There's much debate on the potential merits of taking short, intense workouts, in favor of longer more endurance oriented workouts, and I was curious to see what winter fat-biking has done for my own levels of fitness.
There are other lesser points which I'll get to later.
Fat Bikes as Year-Round Bikes
I hear the question asked quite a lot - can fat bikes be used year-round and not just in the snow? Well of course they can, there's nothing physically preventing one from doing so. But many people are writing about ditching their mountain bikes and their hybrid-trainers and just using fatties pretty much for everything.
In my case, I've deliberated for some time over how best to equip my two-wheel stable; the deliberations have proven lengthy and convoluted as I haven't really had a clear idea of how/where my cycling will take me in 2015. Since 2014 was my first 'real' year of serious riding, it was and still is very much a moving target.
So defining my cycling goals for 2015 hasn't been easy, and therefore deciding what type(s) of bike to own, hasn't been easy either.
This is probably the closest thing I have to a game-plan:
Assuming 12 months of riding, and factoring for the typically long winters here in WI, this seems to be my best guess of what will ensue over the coming months, with the division of time spent in each category expressed as a percentage –
Riding in snow/ice 30%
Riding on gravel/dirt/muddy trails 10%
Riding single-track 5%
Riding asphalt, including the occasional organized Century ride 50%
Bikepacking, asphalt/gravel 5%
So the question repeated - what type of bike(s) do I need to own?
Obviously I need a fat bike, and I have that base covered with my Salsa Beargrease Carbon. But what else do I need? Well, after much research I think I may need a Salsa Fargo 2.
The Salsa Fargo described in the words of Salsa themselves –
"BIKEPACKING / OFF-ROAD TOURING / SINGLETRACK - The Fargo is our drop-bar, off-road adventure bike. A unique creature with a special set of skills, it is always willing to fulfill the most imaginative endeavor. It has developed a cult status as an off-road touring and bikepacking machine, and fuels our passion for long days in the saddle in distant lands."
That seems pretty much like a good bet for me. A do anything / go anywhere style bike. Of course having decided upon it I then started to rethink and over-think things, as I'm prone to do.
I read a few forum comments, always a mistake, but they seemed to take on a consistent theme –
'The Fargo is basically a mountain bike with drops'.
Well I already have a mountain bike, and since I don't really care much for using drop bars anyway, why not just stick with what I have, the GT Karakoram 29er?
'The Fargo shimmies under load and at speed'.
The last thing I need is to end up punching a hole in someone's siding, as I almost did on one of last year's touring adventures. In all fairness to Salsa, and to other Fargo owners, the legitimacy of that claim can be called into serious question based on the very low sampling rate of complaints.
I then looked at other bikes in the Salsa lineup and became even more confused. There's the Vaya, which is like the Fargo only a little more road oriented, and then there's the Warbird, which is like the Fargo only more gravel/race oriented, then there's the Colossal, which is like the Fargo only……
Yes, they all seem to overlap, making the task of picking one over the other ever so slightly difficult.
As I'm prone to do when faced with a difficult choice I find myself defaulting to the 'do nothing' position. I've built a lifestyle around this concept and it's stood me well so far.
Of course there are other options from the plethora of bike manufacturers out there - Surly have adventure/touring bikes as do Trek, Cannondale and most of the others. I quite like the look of the Trek 920, with its range of versatile touring options, its Matt Drab Olive paintwork - and its $2000 price tag is $200 less than the Fargo 2.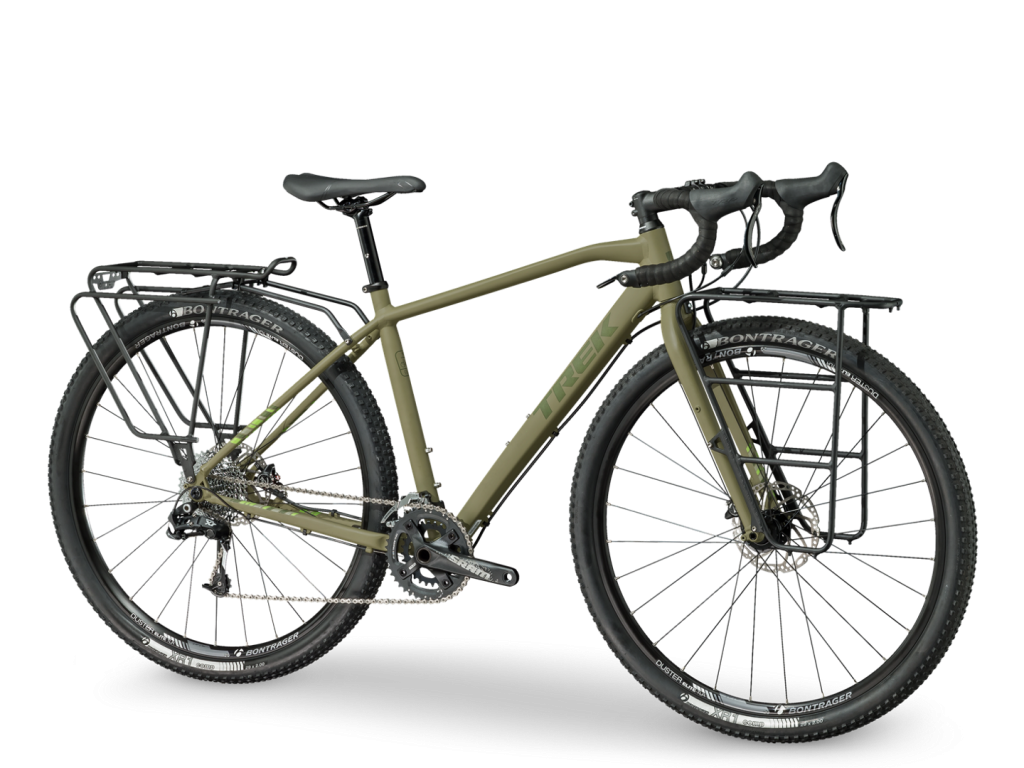 With regard to Trek, I do have two Trek stores right here on my doorstep in Door County. They're both branches of Nor Door Sports and Cyclery, one in Fish Creek the other in Sturgeon Bay. My nearest Salsa dealer is 'Broken Spoke' in downtown Green Bay, a two and a half hour round-trip by car.
It would make some sense to buy Trek, particularly given the fact that my tool box contains two hammers, some odd-sized wrenches, and a flat-head screw driver with a blade that's too fat to fit any screw I've tried to use it with to date. I'm not really a hands-on grease monkey kinda guy, though I can get by with judicious creativity when an emergency arises.
But there's something about Salsa that I like. My brother-in-law owns a Mukluk and has done for a number of years. He loves it. I've owned my Beargrease for a few weeks only, and I love it. I feel, dare I say it, almost a sense of brand loyalty. Which is a little strange for me since I'm the biggest internet pimp out there, always looking for the best deal and never wanting to pay full retail for anything.
But then another path opened up before me. What if I use the Salsa Beargrease Fat Bike and just throw on a set of 29er or 29+ wheels, for everything other than snow?
I like the geo of the Beargrease - it's the only bike I've ridden on rough terrain that doesn't give me lower-back discomfort. It's sufficiently lightweight and nimble due in large to its carbon fiber frame. The 2×10 provides sufficient gear ratios for pretty much everything, and it can be made somewhat tour-friendly without hacking or brazing.
So what if I have the one bike I need right here, the Fat Bike -
One Bike to Rule Them All?
Of course there are some practical downsides.
It doesn't have drops, so on windy days you're sitting up there like a startled decoy waiting to get shot.
Throwing on/off different tires ain't easy with a tubeless setup.
Buying a good set of 29″ or 29+ touring wheels and tires isn't exactly cheap - a complete Fargo can be had for around $1600 and a good set of tires/wheels/hubs/cassette (ready for a quick change) could easily cost the same.
There are no front fork mounts or touring braze-ons (I should've bought a Salsa Blackborow)
That unfinished carbon frame sure shows up every minor knock and blemish. I do tend to have more than my fair share of mishaps with a bike, particularly when it's loaded for touring, as I wrote about here and here. It would be a shame to go into the 2015 winter with the Carbon Beargrease looking like something in the Returns Department at Bikes Direct.
But in reality, there's only one way to find out what it would be like to spend a full two days in the saddle of a Salsa Beargrease.
Friday The 13th.
I decided it would be 'nice' to take the Beargrease on a little road-trip, do a little bonding, see the sights - for reasons I've alluded to above.
The sensible thing to do would have been to wait until spring landed upon us with some certainty, rather than try to catch one or two of those nicer preliminary spring days which can turn back to winter in the blink of an eye. Unfortunately I don't do sensible very often, nor very well.
Since I've been collecting a few pieces of light touring gear over the preceding months, an activity fueled by the many '% Off' coupons landing sporadically in my inbox, I've been itching to try a few new things out.
I was lucky enough to snag a set of Ortlieb Back-Roller Classic pannier bags for a paltry $90 from here.
I caught a seatpost mounted pannier rack for $25 from Amazon.
I picked up a handlebar extender also from Amazon, and a couple of other odds and sods.
So on Thursday 12th March I decided that the following Friday morning would be a good time to head off. The weather forecast suggested a fairly rough day, so I figured at best it would be the exact opposite of what they were saying, as is generally the case, and at worst, they'd get it right for once.
The forecast was for strong 25-35 mph winds blowing from the South East (the direction I was headed), cool temps in the low 30's to low 40's along the Lakefront (the route I was taking), and possible wintery conditions with ice/rain in Two Rivers WI (the area to which I was headed).
What could possible go wrong?
I loaded up the bike on Friday night. I decided to pack enough clothing for two nights just in case I couldn't make the ride back on Saturday, for whatever reason. I always over-pack and in some ways it was intentional on this trip as I wanted to get a flavor of how the bike/rig might handle an actual camping trip, with tent et al.
I deliberated over the need to install my full lighting rig, almost opted to go sans front-light, then decided on my lightweight battery powered light just on the off-chance that low lighting levels warranted a little extra notice-ability. I wasn't intending to ride in the dark.
I packed all the tools I owned and all of the accessories I could think of, including chain tools, spare tube, extra Stan's sealant and various adjustable wrenches and hex keys. I did not bring along a hammer. I used my Topeak seatpost mounted small tool bag and a second handlebar mounted bag for the overflow.
The seatpost pannier rack works great for carrying a single pannier, but won't work on the fat bike for two side-bags without modification. I toyed with the idea of lashing the Ortlieb pannier bag to the top of the rack but decided on the conventional side mount. At no point in the ride did I have any issue with this setup, nor did I feel any weight imbalance with the single side-mounted bag.
I carried some spare clothing and a few light accessories in a small backpack. I've never had an issue using a backpack when cycling, so long as the weight is kept under about 3 or 4 pounds.
On Friday morning I was up and pacing before daybreak. It was then that I noticed I'd dropped almost 8psi from the front tire overnight. I'd inflated to 20psi the night before, since my plan was to ride asphalt the whole way, and now it was down to just over 12 psi.
I knew right away that a repair I'd made over the weekend was the culprit. I'd pulled a large thorn and hadn't plugged it. Instead I'd relied on the Stan's sealant to do the trick. And it did, at lower trail pressures. But the higher psi had partially blown the sealant from the hole. I re-inflated and spun the wheel and could here the hissing diminish quickly as the sealant came into play. I figured so long as I kept moving I'd be OK.
To seal ('scuse the pun) my commitment to making this trip I'd gone ahead and booked a room online the night before. Bought and paid for, $90+, no backing out.
The hotel was at least 75 miles away, possibly 85, depending on route. So I couldn't really shorten the trip either.
Seventy five miles or more on a fat bike, riding into a strong headwind, in 30 degree weather. Was I crazy, or as my wife so kindly likes to remind me - having a midlife crisis? I'm too old for one and probably guilty of the other, but who cares.
With the sun barely up and my Bob's Steel Cut oats simmering on the stove-top, I found myself full of trepidation and with a few minutes to kill. I had the last-minute idea of switching the gear from my Beargrease on to my 29er Karakoram Hardtail trail bike. It would've taken maybe fifteen minutes to get everything transferred over and I would've been void of any leaking tire worries and assured of an altogether easier ride, perhaps, maybe.
So with my porridge bubbling I dropped-in at the Fat Bike group on Facebook and made a quick post relaying my dilemma - the leaking tire, the high winds, the 80 miles - whine, whine.
The positive reinforcement returned by the Facebook group for my little undertaking was overwhelming; a good number of well-wishers emerged along with people whom I felt were joining me on the trip, albeit in spirit only. I couldn't back down now, it was fat or nothing, and for once, doing nothing wasn't an option.
And so I headed out, on that cold and blustery morning of Friday the 13th of March.
I had planned to ride almost straight west to pick up the Lake Michigan shoreline in Jacksonport, then follow the meandering Lakeshore Drive down to Sturgeon Bay. I was now concerned about running out of daylight so I curtailed the first part of the trip and headed straight south on the highway to Sturgeon Bay.
Crossing the bridge connecting the north and south of the bay I was actually a little nervous that I might be picked up by the high winds and swept over the top of the 5′ guard rail and into the river. It was blowing hard. At 52 years old I didn't fancy my chances in the icy water of the bay, so I dismounted and pushed the bike across the bridge footpath heading south.
I toyed with the idea of a major re-route around mile 20. My hands were frozen and my feet were quite cold. Damn 45NRTH for running out of Wolvhammer boots pretty much at the start of the winter season. Damn fool me for only bringing along a pair of lined fleece gloves, thinking they'd cope well at 30 degrees. Had I learned nothing?
I decided to take a look at the Ahnapee State Trail and to consider it as an optional route. The tree-lined gravel trail runs for 48 miles from Sturgeon Bay, winding its way south through Algoma, across to the east where it hits Casco, then south again to Kewaunee. I would be passing through Kewaunee were I to continue with my original route, so using the Ahnapee trail would add maybe 7 or 8 miles at most and have me pretty much at my intended destination plus one hour.
I joined the trail-head in Sturgeon Bay but after less than a mile I decided that it was just going to be too slow. The 4″ Dillinger tires on my Salsa Beargrease were just too grippy for the wet, muddy trail surface and I could really feel the extra pedaling effort in my calves and quads. With 60 or so miles ahead of me I decided to pull off the trail and head straight east to the Lake, to rejoin my intended/original route and continue via asphalt.
I hadn't ridden the Lake shore road from Sturgeon Bay to Algoma before. It's a beautiful section of of the lake with few trees obscuring the view to the icy water. I'd driven the route one time over winter and it was almost impassable by car, such was the roughness of the road surface and the extent of the accumulation of drifted ice and snow.
As I was riding along on the Beargrease my mind took me casually back to an experience I'd had on October 4th last year with a Trek Domane 4.3 road bike.
It was the day of my 52nd birthday, my 29er was broken, and I needed to satisfy the time honored tradition of riding one's age on one's day of birth. So I wandered into my local Trek store and paid an enormous sum of money to rent a Domane for the day. I was ill-prepared for cold-weather riding back then as it was my first season with a bike. So I ventured out on a cold and blustery day, much like this one, and had a hellish time logging the requisite 52 miles and living to tell the tale.
It was my first experience with a road bike in probably 35 years, and my first experience with drops in the same time-frame. Other than the immense discomfort from the cold and the soreness of my lower back, the one other lasting memory I have from the 'birthday ride' was the incredible toll placed on my arse-end. Every single little imperfection was broadcast from the road surface to my sphincter with trumpet-like fanfare - 'here's a little split in the asphalt…..kerrrrplunk!'…. 'a little bit of a pothole, barely perceptible to the naked eye…..kerrrrchangalang!
It was a f%cking ordeal by any standard and I hated every minute of it. A day to celebrate? I think not.
But here I am just a few months later, trundling along under similar riding conditions and my comfort levels, at least insofar as the bike was able to contribute, were extremely high. I enjoy the upright riding position offered by the Beargrease, it's much more conducive to old backs 'n bones than the crouched-over position on my old Charge Cooker Maxi, for example. I fully appreciate the compliance of the 4″ tires and how they soak up and dispense with any bumps in the road, without sending them directly up one's lower digestive tract. In fact you can just lose yourself in the moment without giving much thought to what may lay ahead on the road - pothole? not a problem, bounce over that thing, readjust the dentures and carry on undeterred. Snow drift? - whoopee doo, tighten the grip on the bars, lift your feet from the pedals and bounce over that thing whilst whistling Dixie.
You get my point, I'm sure. It's just incredibly comfortable riding along on 4″ tires, and when you're in the saddle all day, comfort matters a lot.
Of course that's not to say that 4″ rubber is ideal, at least not on an eighty mile road trip! Yes, the rolling resistance is quite high. No, the Dillinger 4 is not a good road tire for asphalt, even by fat tire standards. Yes, even when setup tubeless, the rotational mass of a Surly Holy Rolling Darryl shod with a 4″ Dillinger is still going to be high, compared with….well, compared with anything, really.
Banana Break and Lunch Break
I rolled into Algoma and took 5 minutes for a banana break on the boardwalk. It was too cold to hang around and I hadn't quite reached the half-way point so I didn't want to stop for lunch. I checked-in quickly with the Facebook Fat Bike group, noted the increasing number of comments and positive vibes posted on my earlier thread, then continued on down the highway towards Kewaunee.
An hour later I pulled up at the Citgo in Kewaunee and ordered up a cheeseburger with fried onions. Let's be clear on something. The reason I bike, the only reason - is so I can eat whatever the heck I want to eat! (OK, it's not the only reason, but it is the main one, really).
At 52 years old I'm never going to be winning any trophies nor setting any land-speed records on two wheels. I'm happy to make do with creating my own style of adventure, setting my own goals and targets and participating here and there in Charity rides and other events for a good cause. In between I like to enjoy my time away from the bike by eating. Eating anything that takes my fancy. If it dangles from a plant and blows around in the wind, walks on two legs or four, gets spat out from the rear-end of a feathered fowl, or is yanked out reluctantly from its hiding place under two feet of soil; it's a potential candidate for being eaten, in my opinion.
Heck if you slather enough ketchup and honey-mustard on it there's stuff that isn't even classed as food that can slide down quite well and taste good, like an order of McDonald's Chicken McNuggets for example.
So I enjoyed my Citgo burger with extra beargrease, and I'm not ashamed to admit it. A guilt-free zone.
Pushing on after lunch I was holding a steady pace, one conducive to the weather conditions (strong headwind) and the equipment (4″ tires on a loaded bike) –  a pretty slow 10 mph rolling average. I didn't care. It was actually considerably better than I thought it might be when I'd put my head out of the door for the first time at 6.30 am.
My fitness and my legs felt good.
I've been giving thought over the winter to how I'd emerge in the spring, in terms of fitness, stamina/endurance, and leg muscles etc.
In bygone years, after five months of hibernation, I'd reappear usually around June sporting a beard and an additional 20 pounds of fat that hadn't been there back in the Fall. This year, my first and only year of winter activity from the past 17 years, I was at exactly the same weight I'd been at in the Fall. I have fat-biking to thank for that particular miracle.
But the longer distance rides I'd built up to during the summer of 2014 had been replaced over the winter months by much shorter rides, both in duration and distance. I was unable to get a handle on keeping my extremities warm on a typical zero F day, so my winter rides consisted of barreling through the snow on my fat bike for as long as I could stand it, then packing up the bike into the car and driving home, pronto. That usually involved around ninety minutes to a two hour duration; but with a pretty high intensity/effort. And regular too, around 5/6 days per week.
So I was keen to discover how the winter riding regimen had weathered me, and how my fitness levels would be on my first long ride of the season. I'm pleased to say that I'm in far better shape than I expected. Fifty miles into this fairly epic ride by fat bike and I was still feeling full of puff with nothing more serious than a little tightness in the leg muscles, which was always the case for me last summer whenever I would pass through the 30 mile mark, regardless of equipment or conditions. I'd ride through it then as I was riding through it now, no problemo.
Pressing On
I really didn't stop very often, perhaps four, maybe five times the whole way. Other than the lunch break which lasted thirty minutes or so, my stops were not much longer than five minutes. It gets uncomfortable quickly when you stop riding on a cold and windy day. Better to just refuel briefly and press on.
Nutrition
Fueling up for longer rides and maintaining energy levels during the ride is the subject of hot debate on the various cycling forums I'm involved with. I've tried different things in the past and I've learned one very important lesson - don't try anything new on the day of a long ride! I used energy gels on my first Century ride and they upset my stomach. I used an energy/electrolyte powder for the first time on my second Century ride late fall, and it upset my stomach.
For this trip I ate Bob's oatmeal, bananas, a burger and nothing else - my BBB trifecta. Better the devil you know. I started the day with my usual fairly light breakfast of Bob's Steel Cut oats. About an hour in I ate a banana. Another hour later my second banana. Around 1pm I put away the cheeseburger, and that was it for solids. I only drank about 2 liters of fluids, a 16oz Gatorade, a 12 oz Vitamin water, and the rest just plain water. I felt sufficiently fed and hydrated, though perhaps I should've consumed more fluids.
Noise
Around ten miles from my destination I pulled in for a short pit-stop and to enjoy the scenery for a few moments without the noise of rolling fat tire in my head. That's one thing that really deserves a mention here - fat tires make one hell of a racket, even when trundling along at a modest 10 mph! You can't get the sound of those things out of your head. I wore a light headband and had it pulled over my ears, and that was as much as I was prepared to do to shut out the ambient noise, based on my regard for safety.
It's the nature of the beast. I do know there are other tires around which are more conducive to rolling on asphalt than my Dillinger 4's, but that's for another day, maybe.
 Arrived at Destination - Summary of Day One
I arrived at the hotel earlier than I'd expected to. I was able to drop off the bags then venture back out for an hour to have a ride around Mishicot. There ain't much to look at in Mishicot so I headed back to the hotel to prep myself for dinner. The bike said she'd had enough of me for one day so I put her to bed.
You've probably got a handle by now on the fact that I like to eat, a lot. The hotel had a sport's bar/restaurant so I made do with their version of la cuisine gastronomique, rather than having to venture back out.
I started off with the large Taco Flatbread. This was dinner enough for two, I suspect. It was basically a largish pizza loaded with taco meat, cheese and tomato. Not bad.
I then moved on to the 'Friday Fish Fry' - the traditional Wisconsin plate that can either be a delightful array of fileted fresh-caught lake Perch, lightly hand-breaded and deep fried to perfection, or pollock from a box.
I ordered green beans, mashed potato, coleslaw and a side salad to accompany my boxed pollock, and rounded off the meal with cheesecake and a double helping of ice cream. I collected a couple of candy bars from the vending machine along with bottled water enough to make it through the night, then headed back to the room.
I checked in on Facebook for a few minutes before hitting the sack for the day. Here are a few of the posts that I particularly enjoyed reading –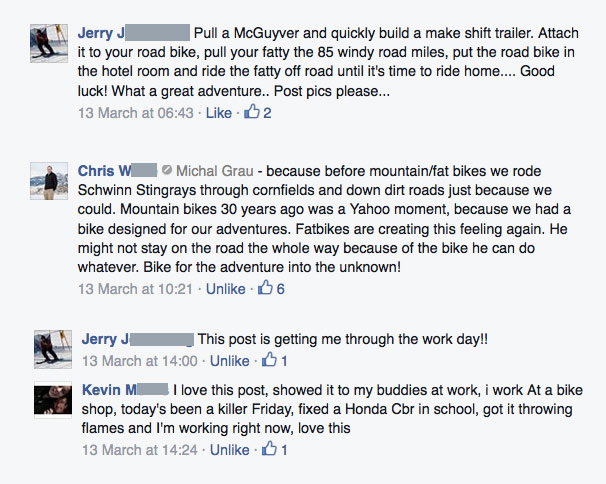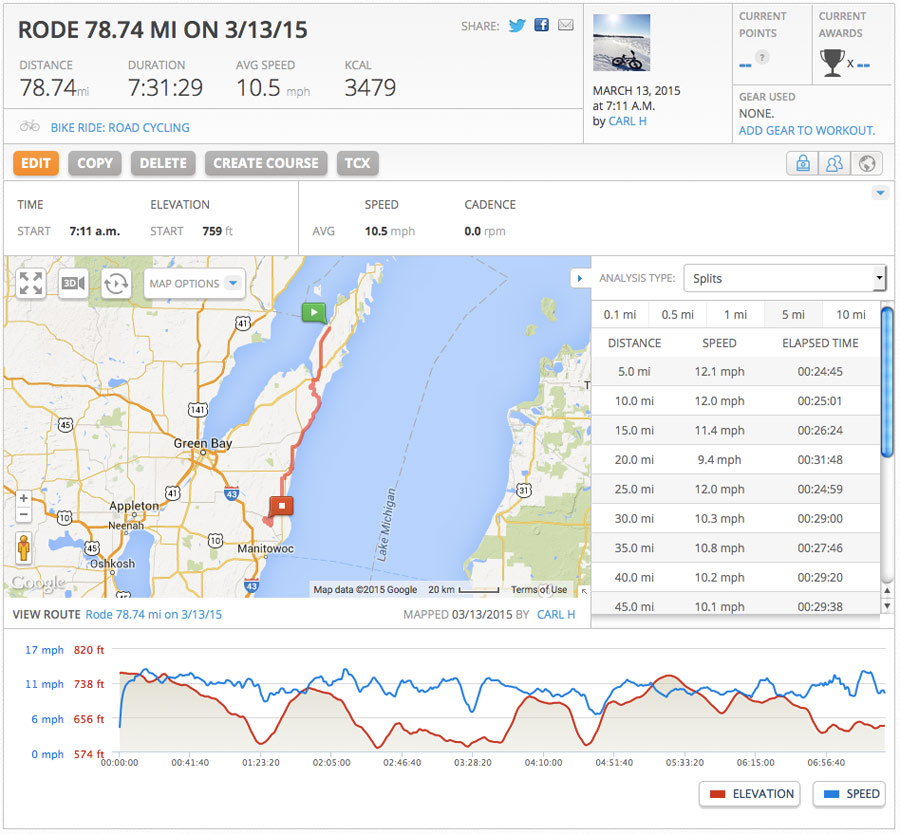 Day Two - The Abridged Version of Events
I've taken up enough of your time so I'll cut this short. Day two was an ugly day on many levels, real nasty.
I lay in bed watching soccer from the UK until 7 am thinking I could make good time by riding the tailwind home. You know, the tail wind - the one that had been a headwind on the way down here.
But on stepping out of the hotel lobby I was greeted with a brisk wind which had flipped a 180 on me overnight and was now howling out of the North West. I was riding NW then NE then N, so I pretty much had the wind to contend with the entire ride home.
It was another painfully slow day, with legs on top of legs.
I made some routing/plan changes to try and dodge the wind a little. I rode directly into the wind on the first leg of the journey, northwest to Devils River Trail which I'd assumed to be a little more sheltered. Indeed it was, but the rough gravel surface offset much of the advantage gained from the trail-side tree cover. It wasn't a difficult surface but it rode with far more resistance than asphalt, and with a long journey ahead it just didn't sit well.
Riding away from the calming lake waters, making slow progress under the dark and foreboding sky, my mood soon paralleled the conditions and took a serious turn for the worse. I wasn't enjoying this day, particularly - not at all.
Around mile 30 I made another 'on-the-fly' route change and decided to go west to join the Ahnapee Trail near Forrestville. I just couldn't stand the wind any longer and decided the rough gravel surface of the Ahnapee would be a better option.
I made good time on the Ahnapee trail, crossed over the bridge in Sturgeon Bay around 6.30 pm and took a well deserved break at the gas station to refuel.
One mile north of the gas station I passed the highway signage showing 'Egg Harbor 13 Miles'. This was pretty much uphill the whole way, and of course, in to the wind. But I put my head down and pedaled like a crazy person, reaching my front door at a little after 8 pm.
90.13 miles recorded for day two.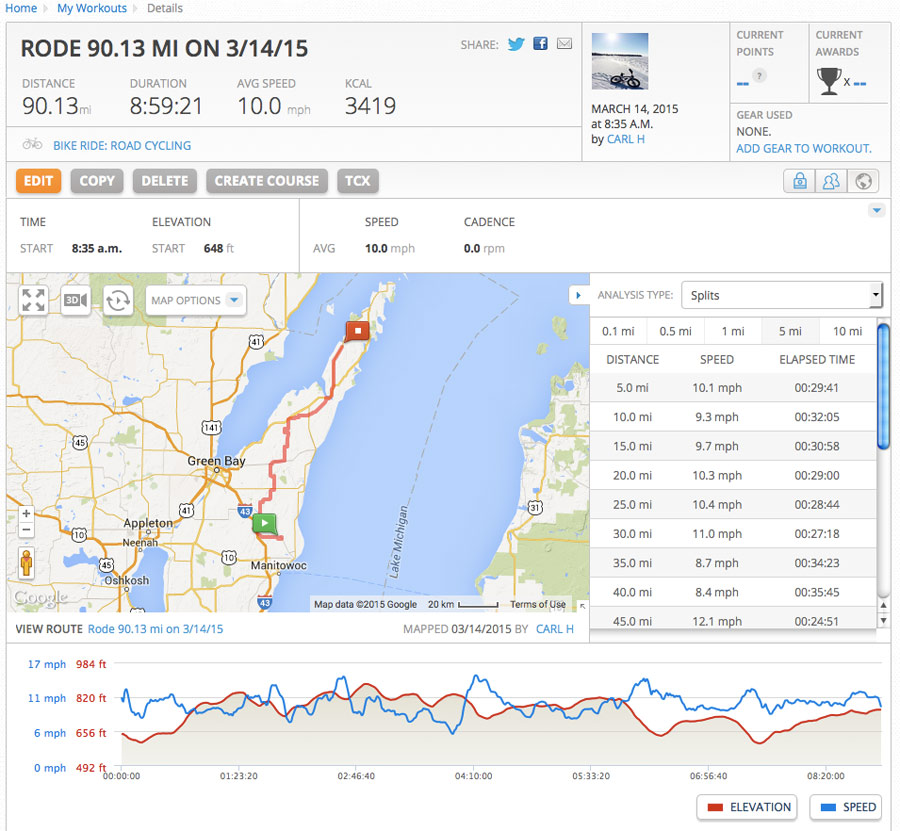 I was happy enough with my energy levels throughout day two, even at the end of the 90 mile day. I could've ridden on, had it been necessary, but I was happy to have landed back home.
The following day, Sunday, was a bit of a washout. I should've taken a recovery ride and at least moved around a bit and stretched, but I just couldn't be bothered. I sat around the whole day catching up on the weekend's soccer, three days of Formula One racing (practice / qualifying / Australian Grand Prix), and basically snacked all day long.
So What Have We Learned?
I love my Salsa Beargrease more than ever. I feel less smitten with the SRAM X9 setup. I seemed to be constantly tweaking the RD adjuster to keep it shifting smoothly. Well actually I could never get it to shift smoothly through all gear combinations. With Shimano you can give the shifters a little nudge when the change isn't affected properly, you can't do that with the positive action SRAM shifters. I'll need to take her to the bike shop soon for some well earned TLC.
I knew going in it would be tough, and it was. 170 miles in two days on four inch fat tires was never going to be an easy ride.
One or two folks at the Fat Bike Facebook group light-hardheartedly questioned my logic over using a fat bike for such a trip.
'Why would you ride Dillinger 4's on asphalt?', one person legitimately asked.
The most I can offer in my own defense is 'why the heck not?'. If it's there, ride it!
To offer some mitigating circumstances I should say that the tires were pretty worn to begin with and would've been replaced quite soon anyway.
But what of a new bike, something more suited to road use and touring?
Honestly, I know the right decision is to drop any idea of touring on asphalt with a fat bike, however it might be setup. There's a reason they make bikes for snow, different bikes for gravel, bikes for….bikes for…..
Which kinda takes me round full circle. What bike should I buy?
FMB
March 2015