A Lower Budget Alternative to Surly / Dillinger?
On-One are a UK based company represented here in the USA by their parent company, Planet X. On-One offer a range of mountain bikes, cyclocross bikes and Fat Tire Bikes, along with various apparel and cycling accessories including the popular On-One Floater tire, as reviewed here.
Though available direct from Planet X in the USA, I purchased my tires from the On-One UK website here. I got a slightly better deal buying direct from the UK, even factoring for the $40 DHL shipping cost. The tires arrived quickly too, about 8 days, 3 of which spanned a weekend and the Thanksgiving Holiday.
Price paid for a pair, including shipping to the USA was $120.80 for tires in black. They offer a number of tires in colored rubber at prices lower than I paid for the black version.
The On-One Floater is a 26X4.0″, 120 Tpi, all-terrain capable fat tire for use on 55-90mm sized rims. Since I bought my bike a couple months back I've been using the stock Vee Rubber tires, which have acquitted themselves pretty well in a fairly broad range of conditions. That 'broad range' however, does not include snow and ice. Sure, they get you along on the white slippery stuff but it's really akin to walking a tightrope…..you're gonna fall, you just never really know where and when.
Looking at the Vee Rubber tire in comparison to the On-One Floater, the two are quite different. The Vee Rubber has a flat profile with tightly spaced knobs and nothing on the sides of the tire for cornering grip. The On-One tire has more of an arched profile, more spacing between knobs and a reasonable side-wall presence of knobs providing more lean-over grip on slippery surfaces. The tighter spacing of the Vee Rubber knobs means more mud/snow clog and reduced efficiency of grip.
Here's a look at the On-One Floater Fat tires - (yes they're foldable)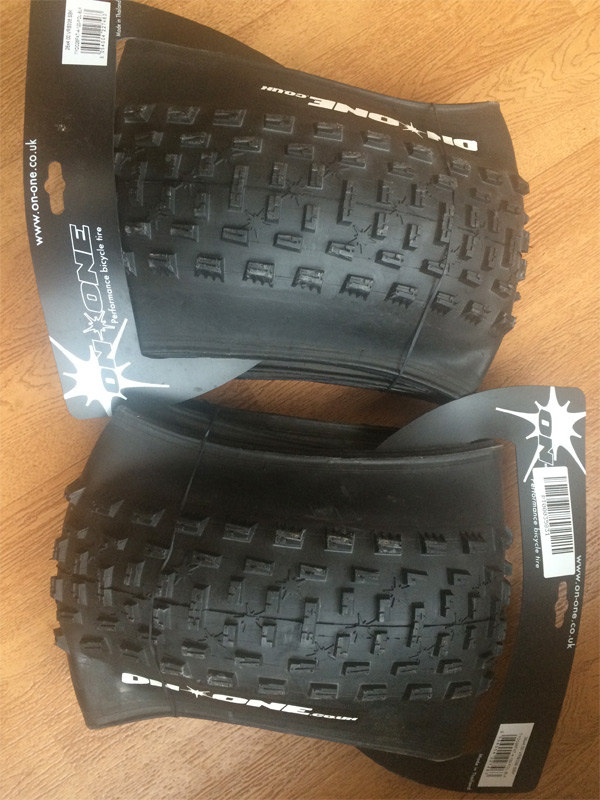 And fitted - On-One floater fat tire on Charge Cooker Maxi Fat Bike –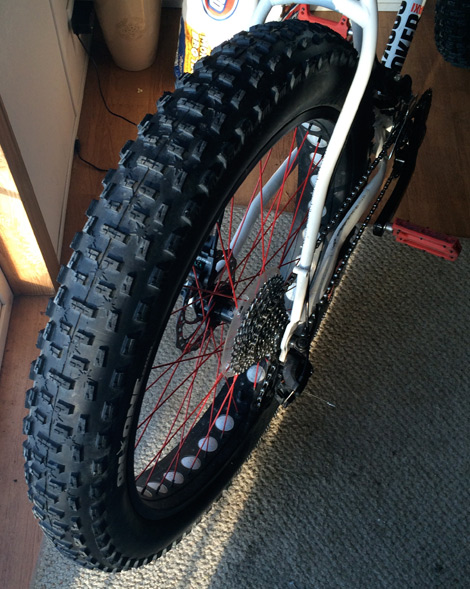 And from their website –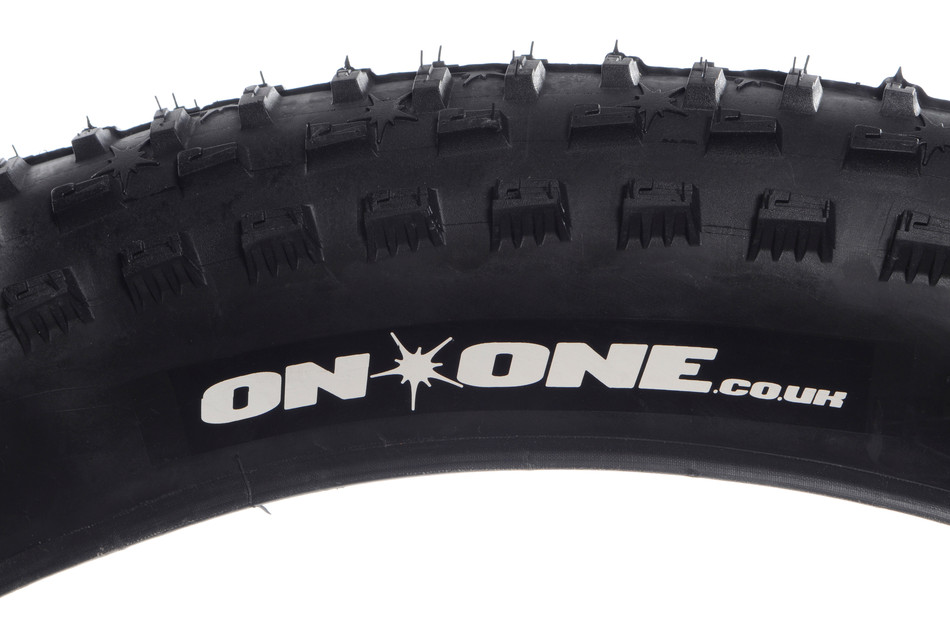 And here's a look at the Vee Rubber Tire…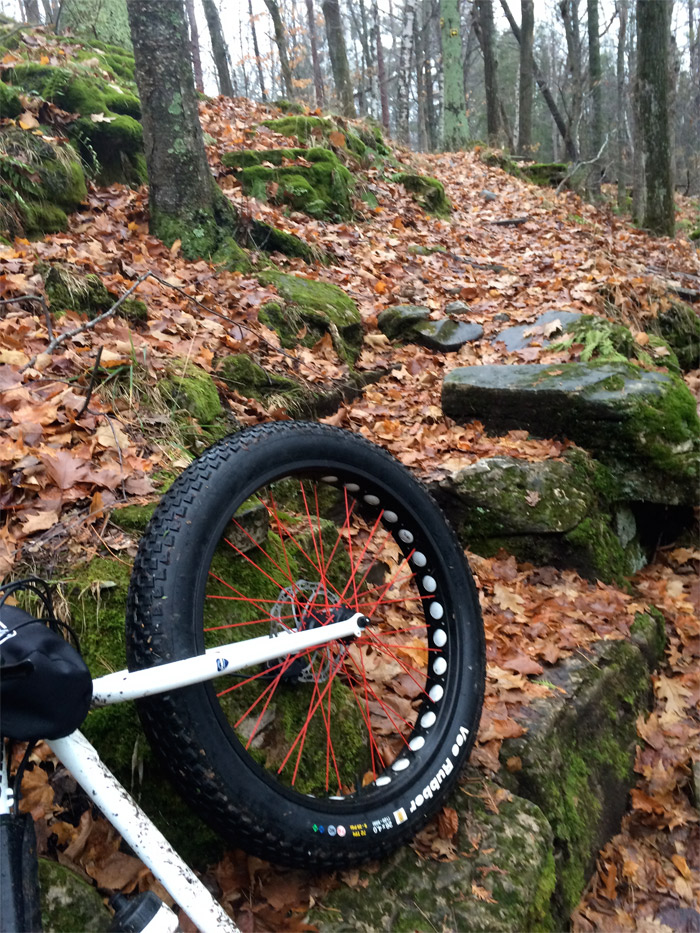 In actual fact the On-One Floater is manufactured for On-One by Vee Rubber, to On-One's own specification. As such the tires have a similar feel in terms of spring and compliance. The tires bounce at around the same psi and soak up shocks and bumps with the same level of 'feel'. Obviously with a Fat Tire one is using the rubber wall of the tire as the shock absorber, assuming you're running with a reasonably low tire pressure. Different tires have a different feel, much like different air/hydraulic shocks have a different feel. But the Vee and the On-One feel very similar.
In terms of grip, well that's where the similarities end.
Riding through a variety of conditions on the Floater tires introduces an entirely new level of confidence in the ride. Over a two hour initial test ride I encountered conditions ranging from sheet ice to bare/dry asphalt. In between an assortment of rutted ice, soft powdery snow, hard compacted snow, melted and refrozen ice/snow with vehicle tracks running through at various angles, etc etc. I did not run into any deep snow over 12″. I'll report back here at a later date if my opinion changes any when hitting the real deep stuff. I doubt that it will.
On all of the conditions encountered, the On-One Floaters provided a surety of traction and a knack for maintaining a line that the Vee Rubbers could never aspire to. Obviously on sheet ice, without studs, it's a lottery, but I was able to keep the bike and myself upright when noodling along at a steady walking pace. But in the rough choppy stuff the Floaters work like a champ.
For the first time on a snow ride I was able to get up out of the saddle quite frequently, and even with the transfer of weight to the front of the bike was able to maintain traction and forward momentum in the snow.
Riding over pretty fast single-track, and dodging between trees on either side of the trail, your life is in the hands of the tires. A front-end slip at the wrong time and it's easy to clatter face-first into a tree at speed. Lights-out and goodnight Vienna. But the On-One Floaters keep you pointed where you want to go. You can even use a little brake-steer on the back end to take the angle out of faster corners without sliding out. They really do provide plenty of grip and a real sure-footed feel.
The knobs on the On-One Floater may not be as large as on the Surly Nate tires, to pick one of its competitors out at random, but they work pretty darn well nevertheless. Plus, the On-One is technically classified as an all-terrain tire, and not snow-specific, so you get a quieter ride on the asphalt than you do with a Nate.
To give an example of the incredible traction these tires provide - I ride the trails regularly at Peninsula State Park in Wisconsin. There's a gentler more civilized route named the 'Sunset Trail' that spans a ten mile loop with around a two mile section of the trail running on internal park roads (asphalt).
When I came to the road section, which is towards the end of the loop, my heart sank somewhat as I quickly came to the conclusion that it was unrideable. These are roads which are not plowed and are used only occasionally during the winter by park maintenance vehicles and perhaps the occasional hunter in a 4-wheel drive truck. The roads were a mixture of sheet ice and around 6-8″ of snow, packed down by car tires and frozen into unpassable ridges.
Faced with the prospect of turning around and having to pedal the 8 miles back to the car in darkness, I decided to have a go at riding through the snow-filled ditch/shoulder on the right side of the road. The ditch was probably a couple feet wide in most places and mostly made up of virgin snow ranging between a couple inches and a foot deep. Under the snow lay a hidden assortment of rocks, trees branches and tree stumps, just to make the ride more interesting. In places the ditch would come to an abrupt end and I'd have to pedal up onto the road surface and try to navigate the packed ice until the ditch reappeared. I couldn't believe how the bike pushed through on this surface. I was mostly in crawl gear, occasionally notching up a couple gears when things eased up. Thanks to the incredible traction/grip provided by the On-One Floaters I was able to keep on the pedals and moving forward pretty much the entire time.
Tire Profile
As I mentioned earlier, the On-One has an arched profile which provides better cornering ability on the slippy stuff. It also provides an opportunity for a quieter and lower rolling resistance ride on dry trails. Put more air in the tires to pop them up onto the narrow center ridge and they'll run close to a 2.1 MTB tire in terms of surface contact. Of course you'll lose the shock-absorber quality at these higher pressures and you'll be in for one heck of a bouncy ride. But for someone who tours on a Fat Bike these tires could work really well.
Tire Pressure
I tried changing pressures a couple times on the two hour ride and found them to operate best within the same sort of range as the Vee Rubber; as low as 6psi on the rear and just a tad higher on the front. Of course these settings are dependent on the combined weight of rider/bike, so they're meaningless to anyone other than me. But at these relatively low pressures the tire-walls behaved well, no folding over or riding off the rim.
Negatives
1 - When mounting the tires on the 70mm wide rims I was surprised at how loosely they seat up. I'd be amazed if these things worked reliably as a tubeless setup, but one can never tell until one tries.
2 - One thing that struck me quickly with coming straight from the Vee Rubber to the On-One Floater, was just how much resistance there is to rolling in the snow. Of course this is a consequence of the extra grip, and you can't expect to eat your cake and have it, but get ready for a hard ride when you shod-up your bike with the On-One tires and hit the snow.
3 - Self-steer is roughly similar to the Vee Rubber and is ever-present at lower pressures and lower speeds, though it's really a non-issue on anything other than trying to track a dead-straight narrow line.
Conclusion
It's perhaps a little premature to talk about a 'conclusion' when I haven't ridden these tires in a full range of conditions. But for their intended use on my bike, as a snow/trail tire, I couldn't be happier with the way they perform.
I finally feel confident enough to ride the trails more aggressively without being overly concerned about the bike washing out, or the rear coming round unexpectedly.
They appear to provide good solid performance and sure-footed handling in a wide range of wintery conditions; good traction in loose snow and the ability to track well on rutted snow/ice, which is exactly what I need here in the frozen Tundra of North Eastern Wisconsin.
A real high performing fat tire at a bargain price.
FMB