Well, there's a new addition to the family today. After much deliberation and umming and arring, I finally decided to take the plunge and get myself mobile for the winter months.
And so without further ado, today's announcement –
The Fat Man has himself a Fat Bike.
I'll soon be hauling my lardass around the County on something more befitting a man of my immense stature and circumferentially challenged proportions, a:
Charge Cooker Maxi Fat Bike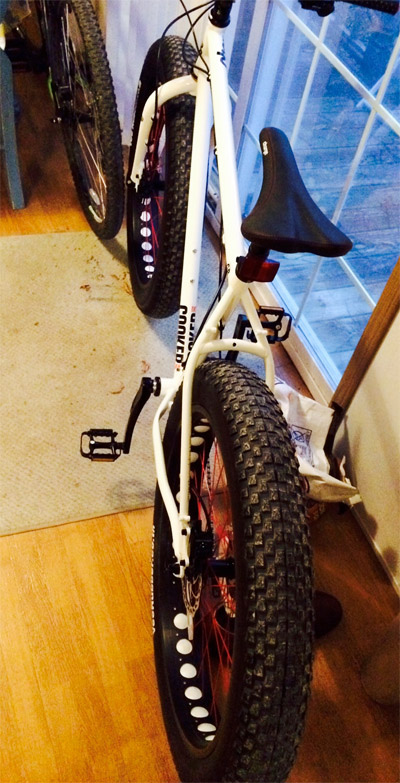 This thing is a sweet looking ride. No, it ain't a Trek Farley or an all-carbon framed Alaskan, but it will do for getting me out into the snow a bit over the winter.
In fact it will do for hitting up the muddy trails for another few weeks of Fall. I took the 29er out during the week on the super-gnarly deep-woods trails at the Peninsula State Park here in town and got myself tossed around like a rag doll. So hopefully this fattie with its 4.00 / 4.00 tires should be a bit more manageable.
Looking over the thing last night and after a couple hundred feet of a ride on the driveway, there may be a couple quick and easy changes needed. I gotta get me some wider bars. These are 700mm and I need at least 780. Also need a taller headset and may need a shorter stem to narrow the cockpit a little. Bigger pedals too. These things are tiny, too small for my size 14 hobnail boots.
Otherwise she's good to go.
I picked this over a Surly Pugsley I had a lead on, mainly 'cos it's a better deal (new vs a used Pug) but also 'cos it's more modern and aggressive than the Pugs. The ride position on the Pugs was a little too suited to plowing along through a snowy field and I wanted something geared to getting up and out of the saddle and tackling the trails. The Charge Cooker Maxi has a better geometry than the Surly Pugs given the type of riding I do. At least that's what I think. And that's all that counts, innit.
I also like the fact that I can get a 4.8 tire on it without too much hassle, if needed. At least that's what I think. And that's all that counts, innit.
The down-side is that it doesn't have hooks for a front rack, but I can improvise with clamps if need be.
Oh and it's made in Great Britain. Notice how I listed that under 'down-sides'. Actually it's designed in GB and I'm sure it's made in Asia where they're all made.
Will post more pics when I get some mud on it.
[read the Charge Cooker Maxi Fat Bike Review - posted 10/25/2014]