I'd never heard of 'Tisch Mills' before seeing it on a signpost on Saturday afternoon.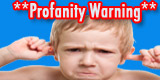 I was actually headed for Two Rivers WI but I was running out of legs and steam at 3.30 pm so when I saw the sign for 'Maple View Campground' pinned directly under the Tisch Mills road sign, I had to pull in.
Tisch Mills is a small town at the tip of the arse-end of nowhere somewhere in Wisconsin. It has a feed store, a gas station that's barely in the city limits, a redneck bar, a cemetery and fuck-all else as far as the eye could see.
The only point of interest is a large political sign on the ride into town, which boasts –  (paraphrase) - "Tisch Mills - No Mayor - No City Council - And Better For It".
I'd challenge that last part. Though I agree as a matter of principal in the concept of every man, woman and child for his/her self, particularly when the boat is sinking, this God-forsaken blemish on the landscape could do with help, from someone.
But let me backup.
It's 8 am on Saturday morning when I head out with a fully loaded bike for a new camping adventure.
This time I'm atop a shiny new GT Karakoram - named after a mountain range in Asia. And I'm feeling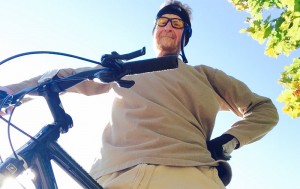 every bit the Japanese Samurai warrior with my Kamikaze headband, yellow tinted goggles, silk MUFC sash and baggy trousers.
I've set up the bike quite differently for this trip as I now have my new Panniers fitted to the rear rack. For the 'Ride on Aqaba' I had the tent, tools and sleeping bag over the front wheel and everything else on the back - a fairly even weight distribution. For this trip I have everything on the back other than my sleeping bag, which weighs but a few ounces and is strapped to the handlebars with bungee cords.
And We're Off
It feels particularly good to be heading out of town on this, the annual 'Pumpkin Patch' festival weekend. Hoards of uncouth beer swigging rat bastards will soon be filling the streets in search of Shit-on-a-Stick - clogging up the highway and spilling over the land like a virulent swarm of demented locusts consuming all which lies in their path. I won't dwell on the FIB phenomenon as it was more than adequately dealt with in The Ride on Aqaba.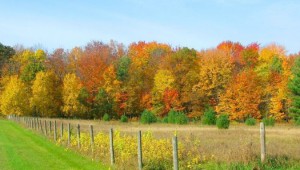 The ride down County G is uplifting, as always. The wonderful Fall colors in their resplendent glory are manifest across the land. The clear blue skies pave the way for the warm rays of the sun to wash over the scene, and as it catches the orange tint of the autumnal leaves it reflects back a vivid hue of bronze and gold. Ya ya…
I stop on the approach to Sturgeon Bay to take photos of a group of exotic automobiles - Ferraris mostly. I look at their owners more than I do at the cars. I see a gathering of hollow, grey shapes, stark and characterless shadows of people caught by the sun and stretched out over the parking lot asphalt. I ride on.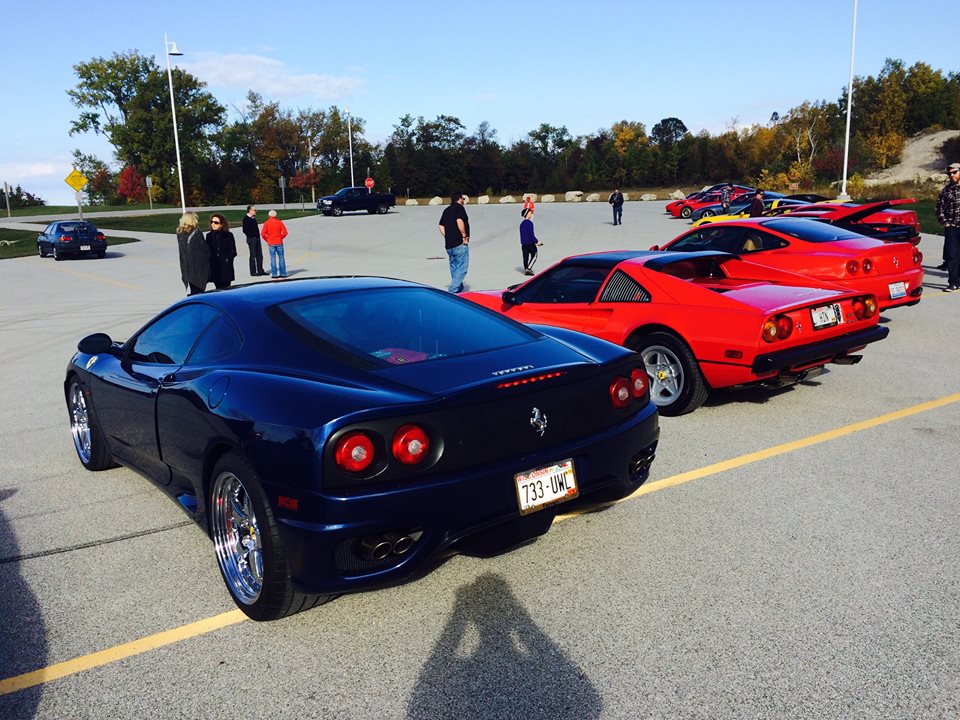 I fell off the bike a number of times on the road to Aqaba. They were all comedic crashes performed at low speed with the only casualty being male pride and ego. I'm well enough padded to deal with slow moving crashes and generally speaking objects bounce back off me without ill-effect.
But I came close to having a fairly major event less than an hour into this ride. I'd taken a detour on Monument Bluff to avoid some of the Pumpkin Patch traffic and now had to descend a steep hill to rejoin County G and cross the steelbridge to the south side of town.
Banzai
The descent was quite long and winding and the road surface was littered with gravel chips and mud. The road terminated as a 'T' junction at County G and opposite the junction, off-set to the left was a small house.
I came barreling down the road bearing down on the stop sign with the wind in my face and ne'er a care in the world. About a 100′ or so ahead of the intersection the road kinked to the right. As I gently squeezed the brake and began to turn the handlebars the bike decided it was having none of it. The uneven weight distribution affected my ability to steer and the bike and I continued to go straight ahead at full speed. I felt the back end lock first but I was less concerned with shedding speed than with my inability to take the corner.
Fifty feet from the intersection and I was still going at full speed as the bike crossed over into the left lane. Moments later I tore across County G with me clinging on to the bike for dear life. The inertia of a combined load nearing 500 pounds is something to behold, and that summed up the expression on the guy's face who was raking leaves on the lawn outside his home.
I hit a small (thankfully) step on the pavement and the bike and I bounced onto the lawn heading for the front of the house. As I hit the pavement both of my feet came off the pedals and my legs were flailing hopelessly as I tried to regain control over the runaway train.
For the last few feet before I came to a full stop I was running with both feet on the ground and the bike between my legs. I've since tried this under less adverse conditions and noted that my feet cannot touch the ground simultaneously whilst I'm straddled over the top tube, which explains the rather high-pitched tone when I came to utter my first words.
On coming to rest about ten feet or so feet from the front of the house, the first thought to enter my consciousness was just how quiet it was.
As I looked around me to assess the scene I quickly realized the extent of my good fortune. My bike and I were still both upright, though barely. I'd shot across a road which moments earlier had cars moving in both directions. I'd skipped over a small step in the pavement where a few yards down I would have slammed into a 6″ paving riser. Another couple mph faster and I would've punched a hole in the guy's siding and come to rest in his kitchen.
Seconds passed and the guy was still speechless, he just stood there looking at me with his mouth agape. I paused to see which one of us would speak first and wondered what the etiquette was in such a situation. I decided to break the ice but the only thing I could think to say to the bloke was "morning".
It took me a while to recover. My eyes were still watering an hour later but thankfully no permanent damage was done to me nor to the bike. The old GT Timberline would've had two square wheels for sure.
The remainder of the trip was uneventful by comparison.
The Ahnapee Trail was every bit as tiresome as it had been on all previous encounters.
Tisch Mills was just as bleak a place as one might imagine, even for a rural town in Wisconsin. I actively sought points of interest to capture for posterity with my iPhone camera, but all I could find was a rather attractively presented and spacious cemetery. It appears 'Thor' came to rest in Tisch Mills. I wondered if they'd buried him with his hammer.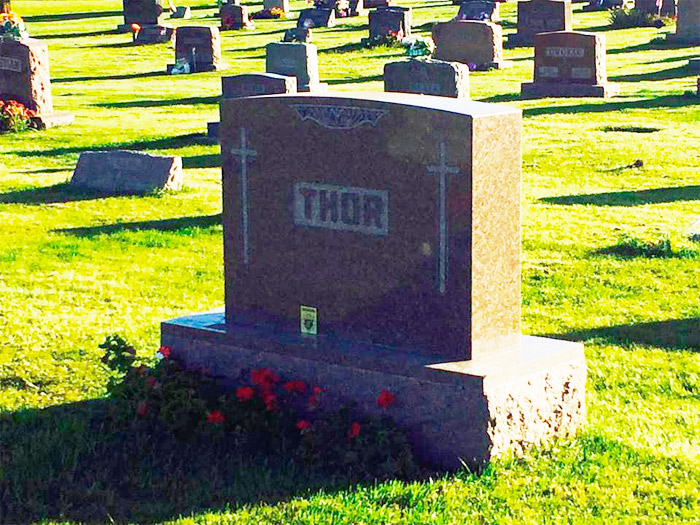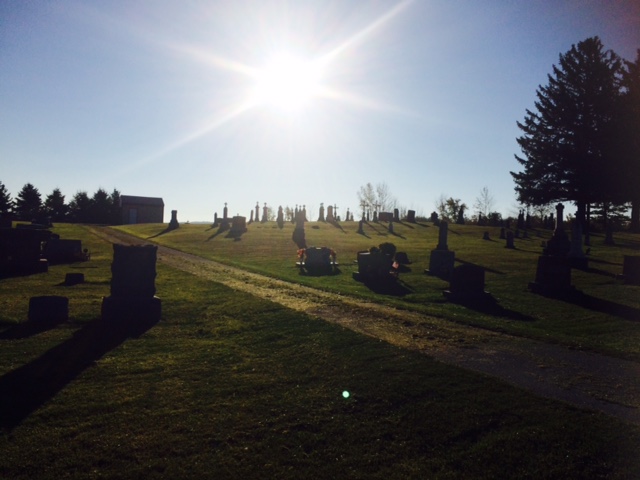 The campground was quite pleasant. Though shortly after my arrival a local yahoo decided it would be welcoming to set fire to an old carpet and to fill my lungs and tent with obnoxious smoke.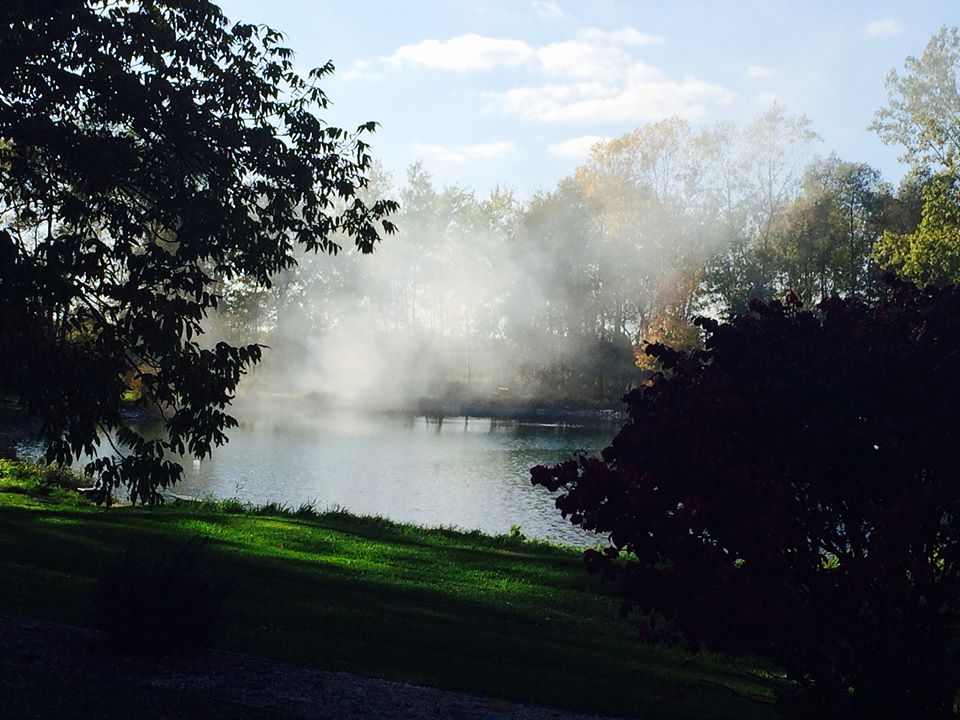 Quite nice after the fucking smoke had cleared…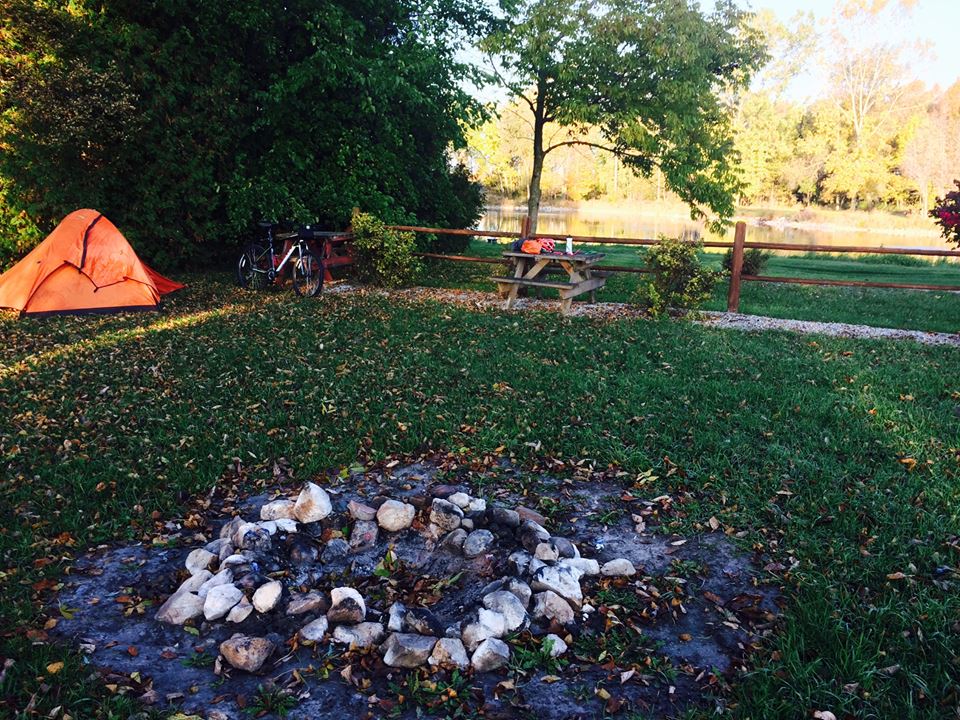 Fine Dining in Tisch Mills
I had to ride into town for dinner. I wasn't happy about making the ten mile round-trip with the return leg being in the dark. I have lights now but I don't care to ride around in the dark, particularly during deer hunting season. I decided, quite wisely I might add, to leave my fur jacket back at the tent.
Dinner was at 'Fat Boyz Bar' in downtown Tisch. I know, I should've been right at home there. But my yellow windbreaker clashed with all the blaze orange.
Dinner was a boxed fish with soggy chips and a snickers bar for dessert, served to me by some testy broad who coulda snapped me in two like a twig. Anxious to see what other culinary delights this town had to offer I rode on to the gas station where I sat until 8.30pm eating jam-filled long-john donuts and drinking day old coffee.
I read my book for a while, a new acquisition that I'd had on pre-order with Amazon for weeks. 'Waking Up - A guide to Spirituality Without Religion' by Sam Harris.
Jesus H. Christ what a dull book and written by a complete twat.
My First Night Camping In Sub 30's
I was fairly confident in keeping toasty inside my new 'Mummy' sleeping bag with its 30 degree rating, but my confidence soon lost its edge when the zipper broke. Has anyone anywhere ever had a sleeping bag where the zipper doesn't break? I doubt it.
I woke several times in the night unable to feel my legs. I was mostly cold just down one side of my torso but my legs were both frozen solid. My feet were quite warm. As I tried to massage the warmth back into my legs I was thinking what it would be like to have artificial legs but real feet.
I was packed-up and on the road to Kewaunee by 8 am or so.
It's all just a Krok
Leaving Tisch Mills one first encounters the township of 'East Krok'. I was thinking how bad of a Krok it must be for them to split up the township into East and West Krok, when I saw a sign for South Krok. Christ. People in Tisch Mills think they have it bad.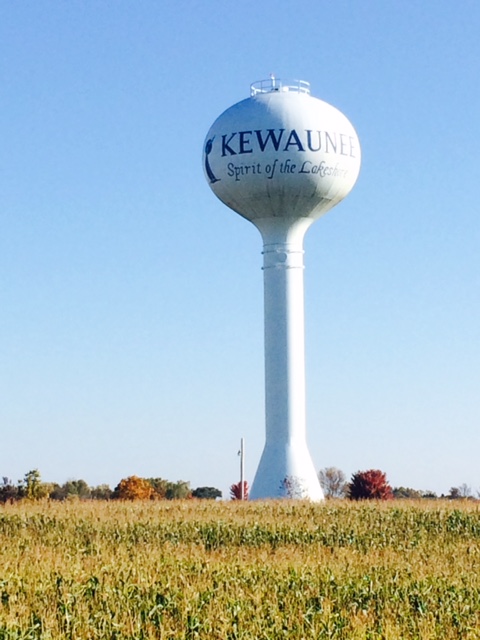 The coffee shop in Kewaunee was closed with the flu so I continued on up the Lake Michigan shoreline to Algoma, where I stopped for breakfast and my first coffee of the day, at around 10.30 am.
I wasn't sure what I wanted to eat. It was one of those menus laid out like the Gettysburg Address and I didn't have my reading glasses, so I ordered coffee, an English muffin and a side of sausage links to tie me over. A while later the waitress brought out my food and the check. 'I haven't finished ordering yet'.
I then ordered a veggie omelet with wheat toast and another English muffin. A while later the waitress brought out my food and the check. 'I haven't finished ordering yet'.
I ordered a slab of pumpkin pie (it's all they had) and two scoops of strawberry ice cream.
This time she brings out my food but no check.
Clearly she's picking it up, albeit slowly, and her slow progress is at my expense. I eat my pie and I'm anxious to pay up and leave but I can't find the f'ing waitress with my check. A full twenty minutes later I'm finally paid up and out the door.
I rejoined the Ahnapee Trail and made it back to Egg Harbor to catch sight of the FIB traffic streaming southbound towards the Windy City and home.
I wonder what scraps and refuse are left behind at the grocery store for us locals to pick over.
The Fat Man
(10 / 11 / 2014)