Using a Trek Domane 4.3 to determine if a road bike is a good fit for me…
It's Saturday October 4th today and I haven't ridden anything since Tuesday's accident on my GT Timberline. My bike is in dock and I'm waiting for a new bike which probably won't be ready until next Friday. I really wanted to ride today, so I did.
It's a miserable day today in Door County, a real washout. The temp was around 38 degrees this morning when I set out to Nor Door sports in Fish Creek to pick up a rental bike for the day.
At the time of writing this, around 5pm, the rain hasn't let up. It's that wet rain, too. Whenever I say 'wet rain' to an American they look at me like I'm stoopid. It's like saying I have a coffee table made out of tree wood. But being a Brit I happen to know a lot about rain and some of it happens to be more wet than other rain. If you want to get technical about it then it's a combination of various factors including droplet size, wind velocity, cloud altitude, and barometric pressure. I know all this because I was a Junior Weather Observer in high school.
Anyway, some rain makes you wetter than other types of rain and today's rain is wet rain.
Before I get to the bike, I should say that today, for the first time in my short riding career, I actually felt quite sheepish about my appearance as I picked up my ride. I have this thing going on where I just don't want to be that guy with the lycra spandex outfit, the go faster peak on his helmet and the fancy clip-in shoes. The day I shave my legs to gain an imaginary speed advantage will be the day they carry me off into the sunset singing 'somewhere over the rainbow'.
Part of it stems from the problem of having a physique which was once referred to as 'utilitarian' by someone who was trying to pay me a compliment. Insults have ranged from 'you fat bastard' to things like 'it's a shame you're not taller'. Anyway, I'm not really self-conscious about being diametrically challenged, I just don't need to accent any lumps and bumps with a pair of tight fitting shorts. So I've developed my own 'look', or theme for riding, and I call it 'stealth suave'. It has worked for me so far with the mountain bike but today, with the brand new Trek as my ride, it didn't feel right. Also, I don't have any real wet weather or cold weather riding gear. So I stuck out like a sore thumb with my beach shorts, rambler socks, yellow plastic rain mac, red and white helmet, North Face ear muffs and a pair of canvas sneakers. Shit, I knew I was gonna get cold and wet and I was OK with it, but my stealth-suave was really gonna let me down atop this swanky $2000 full carbon road bike.
Still, I didn't bale, I just thought 'fuck it', and went ahead anyway.
First off, let me explain why I'm doing this. I'm at something of a crossroads with equipment. It's my first season of serious riding and I've sampled off-road single track, MUP's, road-riding, long distance road riding (a couple 100+) and even camp/touring. I've done all of this on my poor mountain bike and have flogged it to within an inch of it's miserable life. (my bike deliberations can be viewed here).
So I need to divide up the load across two bikes, possibly even three, and I'm renting this demo bike for the day just to get a sense of what a road bike does, how it fits in with my game-plan and what to expect should I go down this route. So it's basically market-research and the minimal investment of only a few bucks in rental fees might save me a lot of money and aggravation down the line.
On to the bike - the Trek Domane 4.3
Let's get the specs out of the way.
| Specification | Description |
| --- | --- |
| Frame | Trek 400 Series OCLV Carbon w/E2, BB90 |
| Fork | Trek IsoSpeed carbon |
| Rims/Wheels | Bontrager tubeless ready |
| Hubs | Aluminum |
| Tires | Bontrager R1 Hard Case Lite, 700 x 25c |
| Crankset | Shimano RS500 |
| Chainrings | 50/34 |
| Front Derailleur | Shimano 105 |
| Rear Derailleur | Shimano 105 |
| Rear Cogs | Shimano 105, 10-speed: 11-32 |
| Shifters | Shimano 105 STI |
| Handlebars | Bontrager Race Blade VR-C |
| Tape/Grips | Bontrager Gel Cork |
| Stem | Bontrager Race Lite |
| Brake Levers | Shimano 105 |
| Brakes | Aluminum dual-pivot |
| Saddle | Bontrager Paradigm 1 |
| Seatpost | Bontrager Carbon |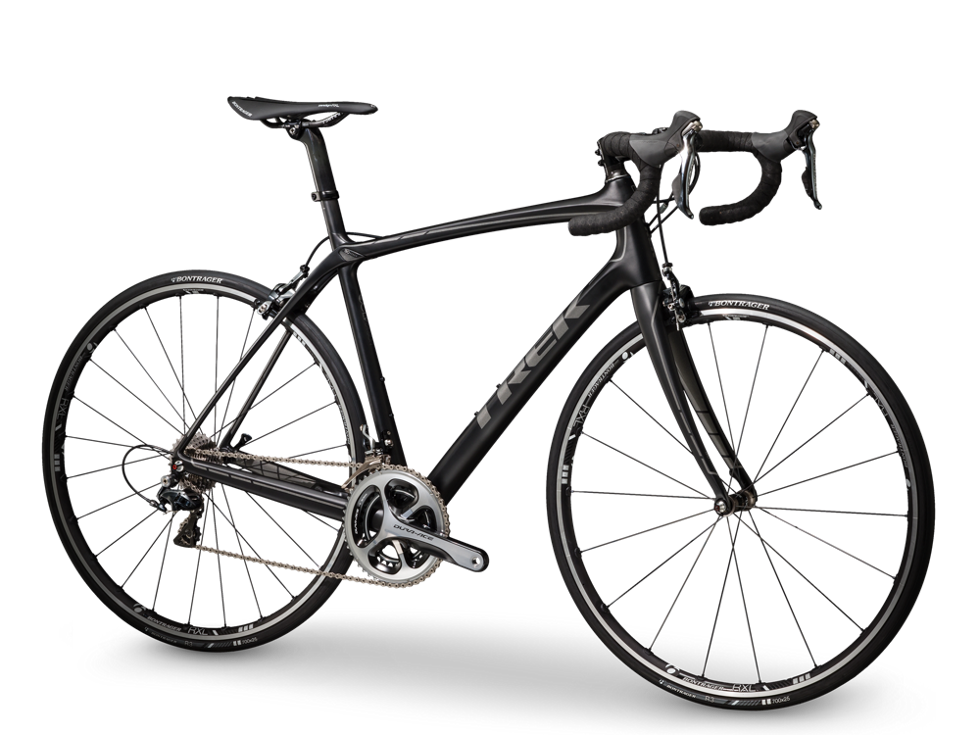 I picked up the bike at 10 am and had the young wee chappy walk me through the basics. I should point out that this is really the first time I've ever ridden a road bike. In fact, it's the only time I've ridden anything other than a mountain bike in over 35 years. The point being, I've never used drop bars and I've never used the fancy side-shifters / integrated brake levers. (Shimano 105 STI).
No biggie. I wheeled the bike across the street and down the pavement and into the entrance of the Peninsula State Park, then rode around for 5 minutes until I got the hang of the gear shift and riding with drops.
After the brief induction to the world of road bikes I pedaled off through Fish Creek, negotiated the usual FIB traffic without too much issue, and started the climb out of town and towards the Highway.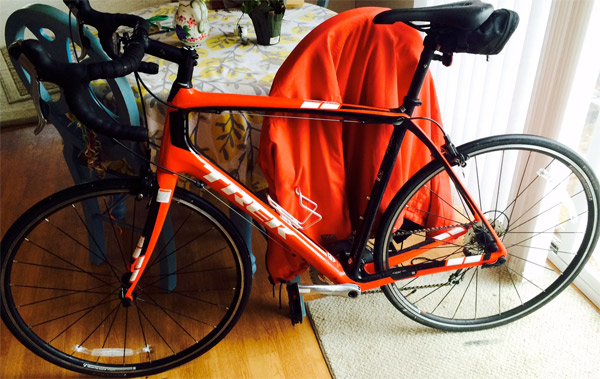 The first thing that stood out as being considerably different to what I'm used to with my mountain bike is this thing's ability to climb. Boy does it move quickly and easily up hills!
I was just mightily impressed when I realized how efficient and easy to pedal this thing is.
The second thing became apparent just a few moments later when I tried to get up out of the saddle on the hill and almost came off the damn thing. Clearly, riding off the seat on a drop bar is very, VERY different to using straights on a mountain bike.
On the next hill I came to I decided not to use the drops but to use the flat part of the bar, and to be honest it really wasn't any easier. I was wobbling around like a clown-rider and I just couldn't get the hang of it. I figured it's just a case of needing practice, and now wasn't really the time to practice, so I pretty much gave up on riding off the seat after the first couple attempts.
The ride on this thing is quite hard. Sure, I expected it to be hard, but it caught me out a little. You feel every minor imperfection in the road surface transmitted with remarkable efficiency straight into your sphincter. Puckering doesn't help, the best I could come up with was to adopt a semi-side-saddle riding style where I alternated between cheeks every couple minutes or so. More on this later.
Getting down the street was a delight on the Trek, it shifts smoothly, stops quickly and steers nimbly. I found myself shifting gears far less frequently than with the mountain bike I'm used to, which certainly enhanced the riding experience. I found it a little on the twitchy side, however. Nimble quickly became twitchy whenever I tried to look over my shoulder to observe traffic, and I frequently found myself wobbling into the middle of the lane. I'm sure this is just user-inexperience more than anything to do with the bike.
Fit - obviously the only effort to get the bike to fit my body was a couple minutes spent on setting the seat height by the young guy at the store. So I wasn't expecting it to be entirely comfortable. However, I'll spot the guy this thing was setup for from two blocks away. He'll be about 6'6″ tall and he'll be walking towards me with his knuckles dragging on the floor. As he walks past me I'll confirm it's him 'cos his arse will consist of two chicken wings strapped together with a rubber band.
The seat on this bike was tragic. After 10 miles I felt like I was sitting on a piece of plastic drain pipe. Even with padded shorts it was extremely uncomfortable, so obviously the seat would need to go.
Also, my arms weren't long enough. I couldn't get comfortable on the bars, they needed to be setup a couple inches closer or my arms needed to be longer.
I didn't care for the drop riding position at all. My lower back began to ache after only five miles or so. I then found myself using the flat section of the bar, which is closer to the riding position that I'm used to…..but I can't get at the brakes from this position!
I didn't care at all for the side-shift gear change. My hands were frozen solid from about mile 20 and I couldn't use the crankset shifter properly. Also, you need to move the lever way too far before it shifts, so I regularly found myself swerving around whilst trying to shift onto the large gear on the crankset.
I suppose most of this is the nature of the beast and not really an issue with the Trek, but my whole mission was the determine the nature of the beast and to see if I could tame it. I wasn't out there auditioning the Trek for a potential purchase, at least not at this stage.
It rained continuously and the temp started out at around 38 and peaked at 40, so by mile 30 or so I was frozen solid. I was soaked through to the skin, my legs were blue and I couldn't feel my feet or my hands.
I put 50 on the clock and called it a day. I was so cold I couldn't hold the pen to sign the credit card receipt.
Look - this isn't a review of the Trek, remember the title of this post? Using a Trek Domane 4.3 to determine if a road bike is a good fit for me…
Anyone looking for reviews of a $2000 machine like the Trek needs to find someone who knows how to ride it. That someone is not me.
Conclusion
If I stuck at it I'm sure the whole road bike thing would become easier and more enjoyable. But to be honest, I don't think this kind of bike is for me. I need something a bit more forgiving and a bit more comfortable. I need to figure out compatible shifters, bars, a seat and a more relaxed riding geometry, before I invest my hard earned moolah. When I do figure out all these things it will likely result in a ride that looks little or nothing like the Trek. It may even look exactly like the 29er MTB that I already own.