It's been a Summer of firsts as far as cycling is concerned.
It's been my first real Summer of biking since I was a kid (I'm in my 50's now). I rode my first Century 3 weekends ago, followed by my first Century/Camp a week later. Then last Friday (26th Sep) I set out on a 3 night - 4 day mini tour, my first ever fully loaded camping tour; with 'improvisation' as the main theme 🙂
Earlier in the week I'd made the decision to embark on this tour somewhat sparsely prepared, based on the good weather forecast for the weekend and the simple fact that there wouldn't be too many more (if any) warm weather riding opportunities left this season.
Since the whole biking thing has only just come about for me, I haven't collected much equipment or experience and so I accepted the fact that I'd be less than perfectly equipped for this ride and that there would be mistakes made in my planning, prep and execution. But I really wanted to go ahead with this mini tour as it would give me invaluable experience before the end of Summer, allowing me the entire Winter to acquire equipment and resources to start the 2015 season off with a bang.
Also, my choice of ride is less than ideal for touring. It's a 29er MTB, rather on the heavy side. If this experience proves enjoyable then I'll look at new bike options over the Winter. But for now, my trusty GT Timberline would have to suffice. In any event, it has proven reliable and quite comfortable on two century rides and with the addition of 700/35's on the front and 700/38's on the rear (road tires), it/we can move along at a comfortable 15 mph pace on the flats 🙂
The first issue came about on departure morning. I'd ordered a rack and pannier set along with lighting, from Dick's Sporting goods. The items were shipped separately in two packages, one on Tuesday (the pannier and lights) and one on Wednesday (the rack). I wasn't too worried if the rack didn't arrive as there was an alternative available at my LBS. I tracked the packages and both were shown due on Friday, the day of departure.
I was anxious to get on the road early Friday morning, so I was at the PO when the doors opened at 9am. Of course the rack arrived but the panniers and lights did not 😡
Q - Postpone until Saturday and make it a shorter trip, or improvise?
A - Improvise!
And so, I fitted the rack, loaded up a sports bag to replace one side of the missing panniers, and was forced to carry the contents of the other side in a backpack (against advice and contrary to my own wishes).
As it happened, the backpack was lightly loaded, with clothing only, and it caused me no ill-effects on the 4 day trip.
Here she is: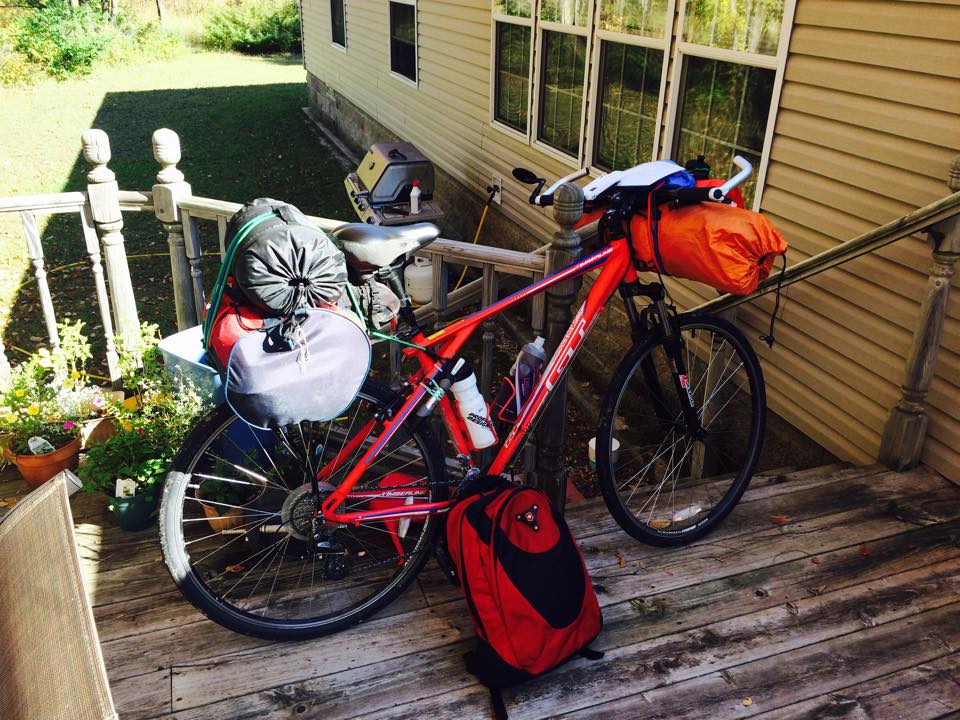 I know some of you will look at the above and cringe, but please remember my opening comments about improv!
So I set out from home at 10:45 am on Friday, feeling an air of trepidation and excitement. My plan for the first day was a 65m ride to Bayshore State Park campgrounds incorporating a 30 mile or so section of the Ahnapee State Trail, a gravel/dirt MUP running from Sturgeon Bay WI to south of Algoma.
The trail section of this ride I have ridden several times over the Summer, but it's even more beautiful now with the falling leaves and fall colors: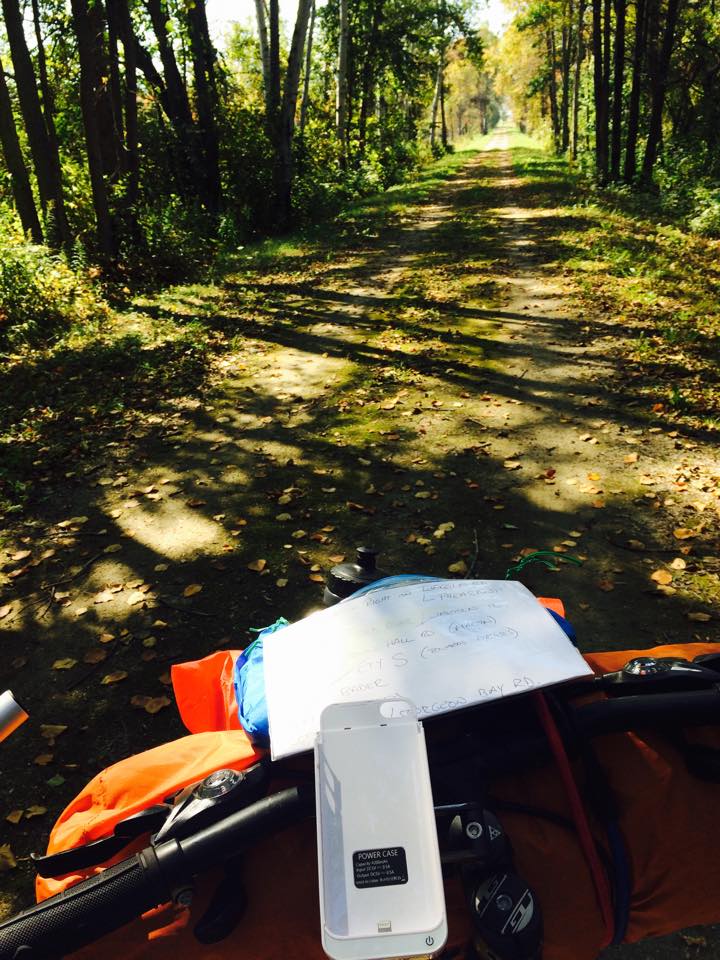 I took a break on the Ahnapee State trail at around mile 30 for lunch, but primarily to catch a little shade from the beating sun: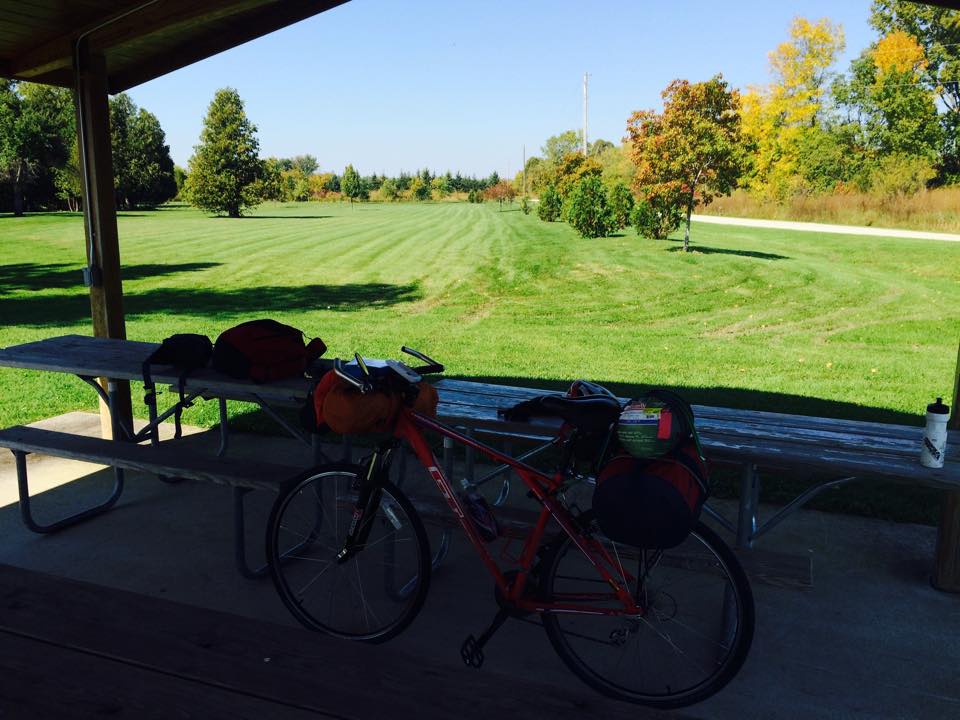 The road section of this leg of the ride was particularly warm/hot and I was happy to find a convenience store a couple miles from my destination where I restocked on liquids and took a break from the heat/sun.
Then my first issue came about. Using Google Maps GPS, the crazy GPS lady was hell-bent on routing me onto the 4 lane HWY to cover the last mile or so to the State Park. The HWY is a 65 speed limit and not for bikes. There didn't seem to be another option without tracking back the way I came and taking a 6/7 mile detour. And so off I went, with the crazy GPS lady screaming at me to 'turn around', 'turn around'.
So 45 minutes later, after managing to cross 4 lanes of the HWY on a busy Friday afternoon, I arrived at the State Park campsite ready for a rest. 🙂
Here problem #2 occurred, the biggest issue of the entire 4 day trip - I hit a speed bump going into the campground. It seemed fairly innocuous at first, a quick adjustment of my dentures and I was on my way again. 😆
But at the tent site I felt the rear brake binding and then I noticed a pretty serious buckle in the wheel.
On inspection, I found a broken spoke and several loose spokes on the rear.
I decided to get the tent up whilst thinking over options. I called a bike shop just a few miles away at around 5pm and was told if I could get there by 6 he could probably fix it for me, or replace the whole wheel. He said the store was about 9 miles from the campground, so I set off like a bat out of hell on a bike with a wobbly back end and a binding rear brake. Of course had I been thinking more clearly I would've released the brake and maybe tightened some of the loose spokes, but I was hell-bent on getting to the store before the 6pm deadline.
His estimation of the distance was a little off, and an hour later I'd covered the 13 miles at a sprint pace on a broken bike. I was shattered, particularly after having ridden 65 miles already, in the heat of the day.
The guy was awesome, very helpful and courteous. The store is In-Competition Sports on Uni Ave in GB. He was manning the store alone so had to break off to see to other customers and it was almost 7pm before we were done. He very graciously offered me a ride back to the campground and I very foolishly declined, not wanting to inconvenience him further.
That was a silly thing to do. It was dark and I was on a bike with no lights on a busy road serving as an exit hub from the I43. What was I thinking?
The first 15 minutes or so were not too bad, I utilized the pavement where I could and there was some street lighting. But at around the half-way point I was out in the boonies and it was pitch black.
I had to pull-up and get off the road when the occasional car came by. I was cold, wet from sweat and exhausted, but I made it back unscathed.
That first night spent in the campground was horrible!
The place was full of yahoos making all kinds of noise until almost 3am. Some kids were in the trees behind my tent chopping down wood and dragging it down a gravel path in a plastic bucket!!! I was yelling at them in my fiercest voice but it made no difference. Had they been the only source of noise I could've probably dealt with it, but it seemed the whole campground was partying into the early hours - after 90 miles in the saddle and a harrowing first day, I just wanted to go to sleep!
The next morning I was up and out of that place at the crack of dawn, doing just fine under the circumstances, on only 3 hours of sleep. :notamused:
The first point of business was to negotiate downtown Green Bay traffic and make it over the Main St Bridge in one piece. I had to stop and grab a couple photos outside of the Titletown Pub: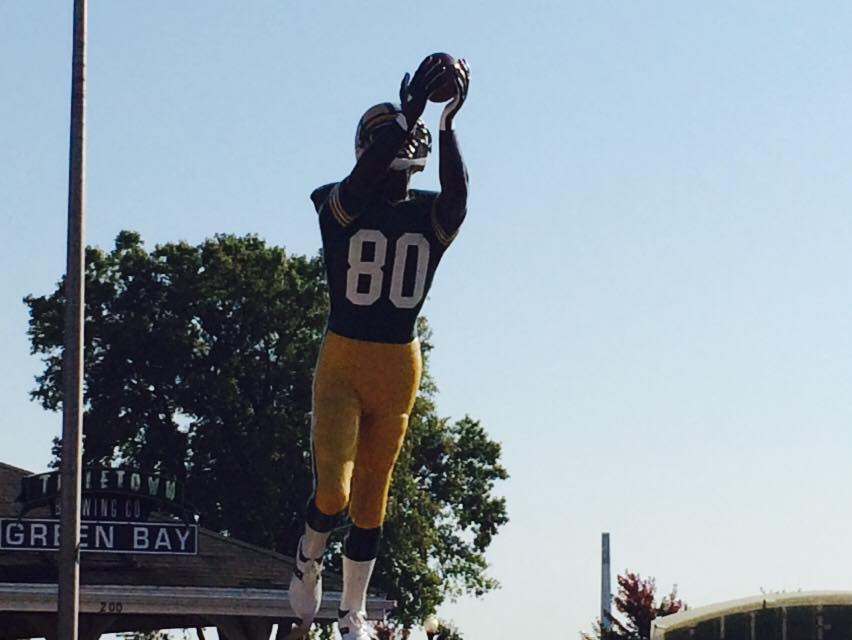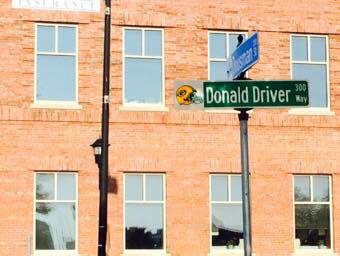 After making it through the traffic out to the trail-head in Howard, I found a great breakfast joint before hitting the trail. I was starving at this point, having survived the previous night on a gas-station sandwich and several granola bars.
Breakfast on the outdoor patio overlooking a scenic pond, at Julie's Cafe in Howard WI: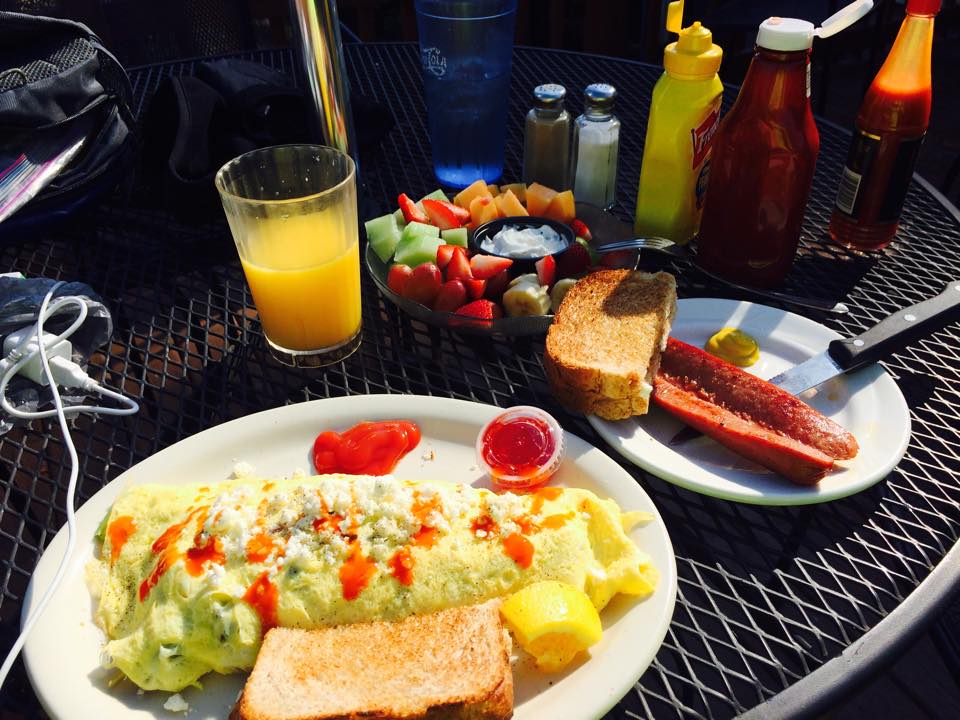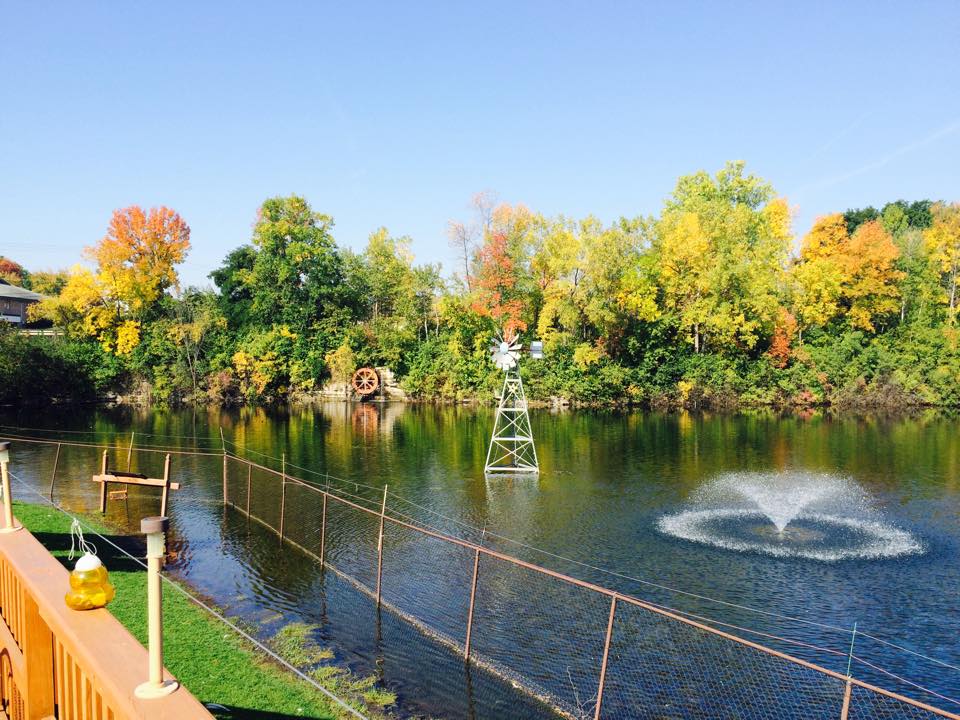 The remainder of Saturday was relatively uneventful (thankfully), and saw me cover 73 miles from north of Green Bay to Tilleda, a small village between Shawano WI and Wasau. I'd planned to make it farther West but the trail was pretty slow-going. I picked up the Mountain Bay State Trail outside of Green Bay (Howard WI) and rode it almost uninterrupted from Green Bay to Tilleda. I was only able to average a 12 mph moving pace on the gravelly trail surface and there were plenty of stops along the way.
So I ditched my plan to go all the way out to Weston WI and had a choice of 2 campsites around Tilleda. I ended up at Annie's Campground, and in contrast to the time spent at Bayshore State Park the previous evening, it was an absolute delight! The campground has great facilities, a bar where I was able to get a great burger for dinner, and the place was practically empty so I picked out a nice, quiet and secluded spot.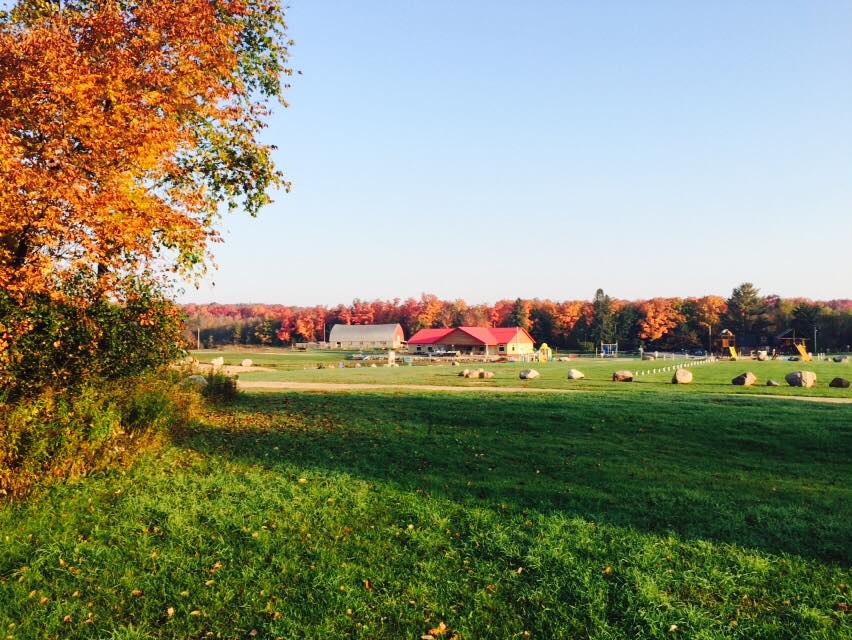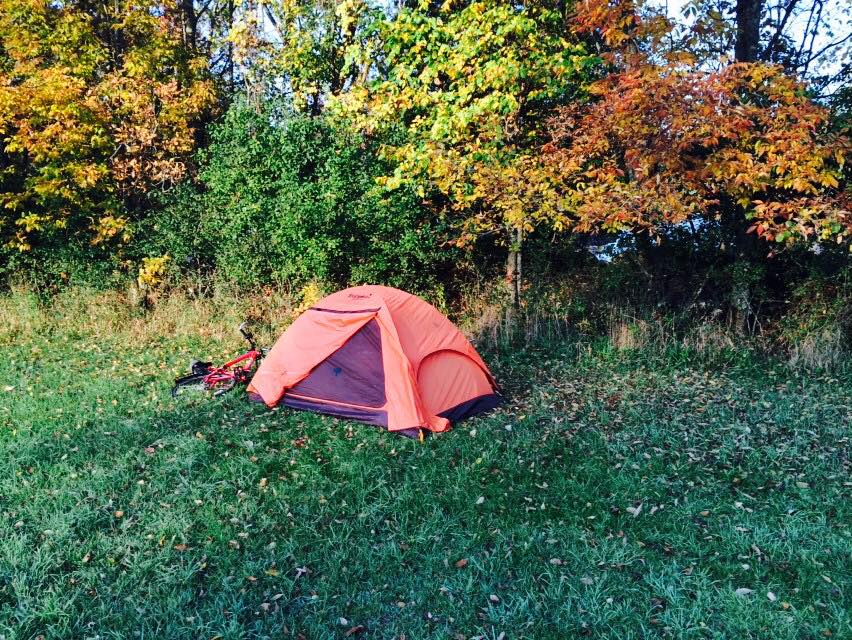 I got off to a leisurely start on Sunday morning, after a good nights sleep. I was almost tempted to book another night at Annie's Campground but decided to hit the trail instead.
I actually did a little re-routing at this point. I'd expected to be closer to Wasau and had planned a ride down to Stevens Point, but instead I rode North East and headed off to Oconto.
There is some stunning scenery on the road to Oconto. I picked up the old highway 29 for several miles, a windy/twisty/hilly section of road that is barely used by anyone other than the occasional farm vehicle and tourist.
I rounded a corner at one point and encountered this scene, which I just had to stop and capture via iPhone: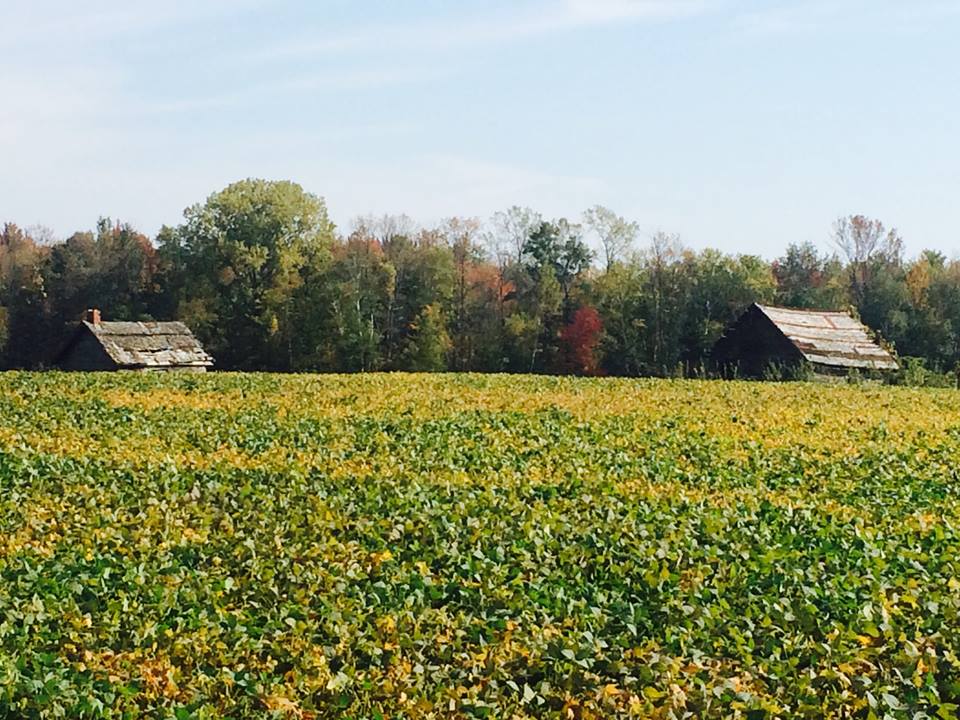 I arrived at the campground around 3 pm on Sunday afternoon, feeling a little guilty that after having re-routed, I only had around 55 miles on the clock with several hours of daylight left. So I decided to set up camp and take a ride on a local trail, unencumbered by the weight of the gear.
The campsite was virtually empty, just a handful of RV's at the south end of the park. I picked a spot well away from anyone and along the riverfront. It was awesome, not another soul in sight 🙂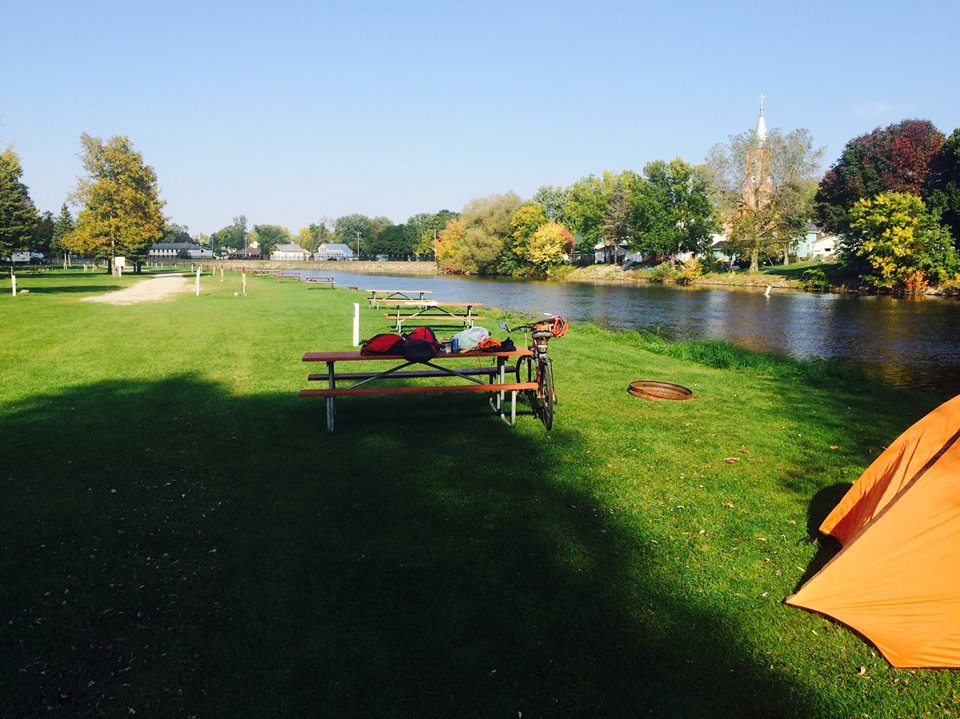 Just the occasional river-dweller: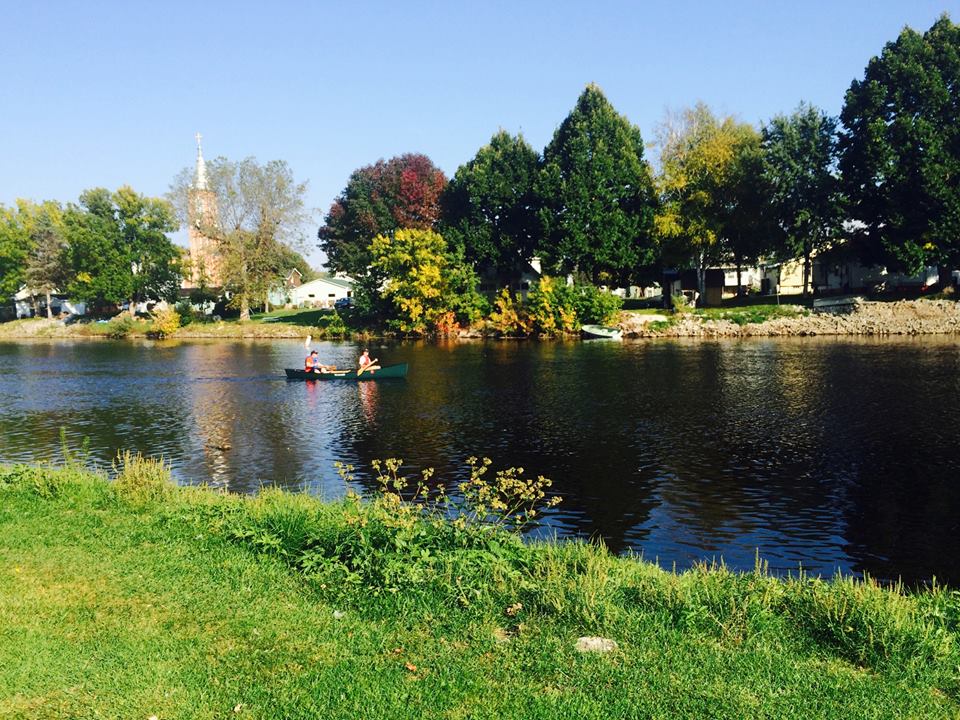 After relaxing in the sun for a half hour I headed off via the Copper Culture trail, a few miles of roads, then on to the old Oconto River Trail. This was a lightly used path and was overgrown and gnarly. My road tires on the 29er wheels were having a hard time keeping me pointed straight, and I was glad when the trail ended after a few miles.
I decided to head back to camp and get showered up, then hit the town.
One last photo op on the ride back: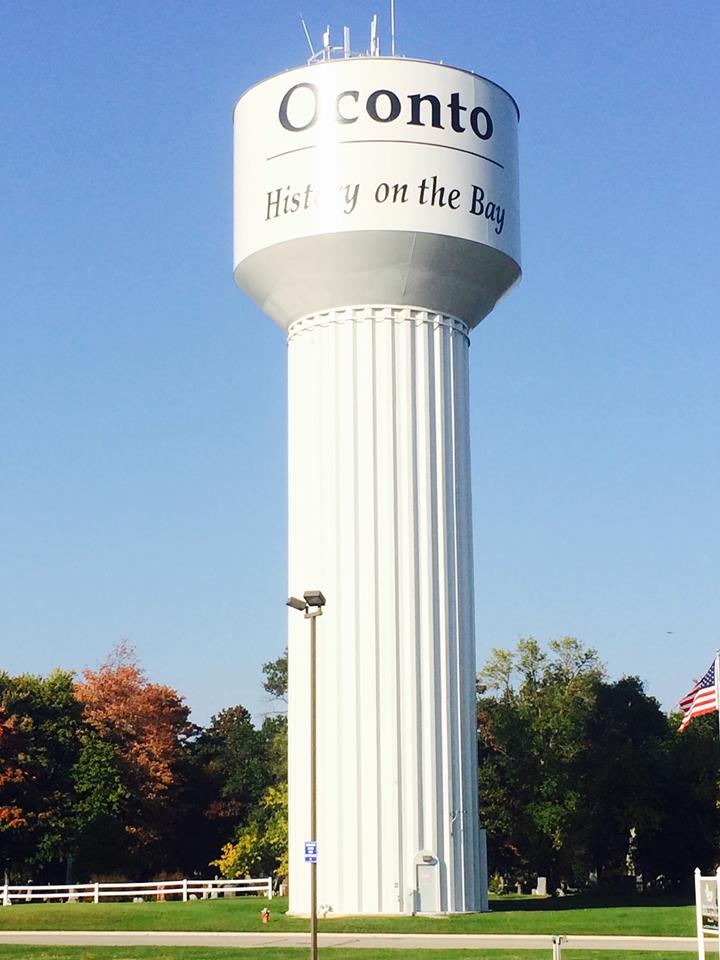 I decided to ride into town around 7pm using sidewalks. This proved trouble-free and it was a relief not to have to deal with any traffic in the dark, even though the traffic was light.
I had a fantastic supper at a local bar/restaurant - 1/2 broasted chicken, half-rack of baby back ribs, mashed potato and gravy, dressing, a bowl of sweet corn and a large salad! Including an O'Douls and a soda, the bill came to under $12.00 🙂
After that I found a McDonalds and drank coffee and read for a couple hours before hitting the sack after a 79 mile day.
The weather on Monday morning was stark in contrast to the previous three days. I'd been blessed with perfect weather up until that point, uninterrupted sunshine, little if any wind, and reasonably comfortable riding temps. Monday was dark, cold and stormy looking, so I packed up camp for the final time and hit the road back to Green Bay.
On trying to get away from Oconto, I had my second run-in with the crazy GPS lady. This time she successfully managed to get me onto the one-way on-ramp and heading off towards the main State 4 lane HWY. I was within 50 feet of the highway, with the semis hurtling past at 70mph when I turned around and pedaled frantically back up the on-ramp in the wrong direction, with the crazy GPS lady yelling at me to 'turn around'.
The GPS works great 99% of the time, but for bikers it can be a liability and an accident waiting to happen. (yes, it knows I'm a biker and to avoid highways, which it does most of the time).
I arrived back in Green Bay and completed the last leg of the journey on the Fox River trail, in cold weather and light rain.
It felt good to be back!
Overall this was an amazing experience and a tremendously rewarding induction into the world of cycle touring. I'm still digesting and absorbing the many wonderful sights and sounds and starting to tentatively think about the next stage of my new biking journey. I've gathered a good deal of information on this, my first mini-tour (285 miles over 4 days) and I'm looking forward to many more miles on the road in 2015, where I hope to be better equipped, better prepared and hopefully a little fitter than I am right now.
Thanks for reading!